New details on Samsung's upcoming Chromebook have surfaced through leaked photos.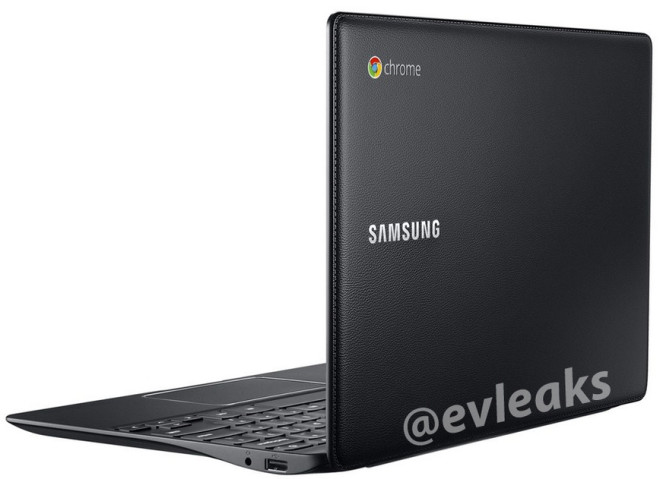 The new leak comes from renowned Twitter leakstar, evleaks, who has shared a couple of photos of Samsung's next Chromebook on Twitter.
The first photo accompanies a note that read, "Samsung's Galaxy Note 3 design language marches on......" Following this appears another photo (above) of Samsung's notebook running Chrome operating system, according to which the new device is named Samsung Chromebook 2.
The leaked photos show Samsung and Chrome logo on the device. Besides, the leak reveals a key feature of Samsung Chromebook 2, which is the faux leather cover.
Samsung introduced the faux-leather back pattern on the Galaxy Note 3. Since then some other devices from the company also got faux leather cover. Also, the similar design has been noticed on the Galaxy S4 Black Edition, Galaxy Grand 2 and Galaxy Note 12.2, reports Sammobile. If the rumour turns true, it would be interesting to see the new Samsung Chromeboow 2 with faux-leather back.
Last month, two models of Samsung Chromebook 2 appeared on the B&H Photo website revealing a few details. According to the listing, one variant of Chromebook 2 has a 11.6in display and uses Exynos 5 chip, which might be the new octa-core Exynos 5410 processor, notes Android Headline.
The other Chromebook 2 model has a slightly bigger screen, at 13.3in. There is no word on the processor, but it is expected to be Intel's. Apart from these technical features, the listing also suggests the retail price -- the 11.6in and the 13.3in Chromebook 2 costing $299.99 and $399.99 respectively.