A tweet, from Samsung Mobile Arabia (SMA), however inadvertent, may just have confirmed the presence of a successor to the Galaxy Note smartphone. SMA's Twitter account posed a poll, asking followers which Samsung device - Galaxy Beam, Galaxy Tab2 and Galaxy Note 2 - they were most looking forward to. The tweet does add credence, however uncertain, to reports from IBTimes UK suggesting the same development. However, we should caution our readers that the tweet was not from the company's primary Twitter account.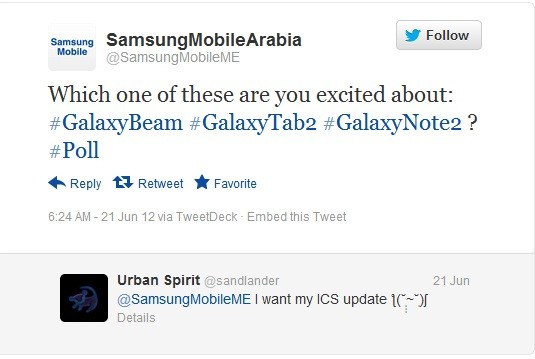 Meanwhile, a news Web site called PopHerald claimed to have contacted Samsung officials regarding the accuracy of the tweet. The company refused to confirm the development and added that they would not comment on rumours and speculation.
"Galaxy Note (2) is not official yet, and we do not comment on rumours and speculation. We will inform you about the latest Samsung phones and tablets ASAP," a Samsung employee, who requested anonymity, reportedly said.
While the refusal to comment is discouraging, it is worth remembering the company followed the same practice when launching the Galaxy S3. Design engineers recently admitted they kept everything, including patents and technology, about the Galaxy S3 under wraps for as long as they needed to; the engineers agreed security was among the highest priorities while they were working on the Galaxy S3.
"My eldest son is in 6thgrade. He knew that I had worked on the Galaxy S and S2. So I guess he assumed that I'd do S3 also. Every time he saw an article on the internet about the Galaxy S3 he'd ask 'Dad! You're making the S3, right?' But all I could say was 'I don't really know.' It was really awkward," said Byung Joon Lee, principal engineer (Mechanical R&D).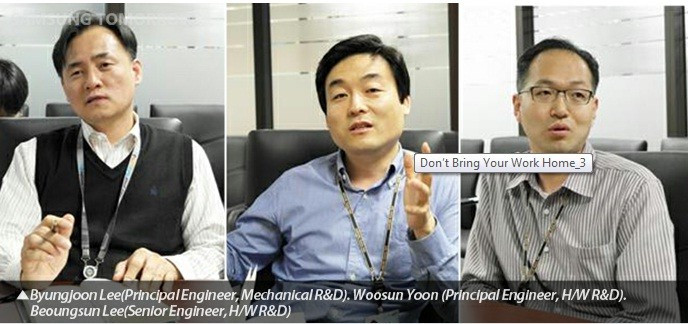 Samsung's unwillingness to comment on the Galaxy Note 2 has not stopped other sources from speculating. A report by Korean newspaper MK Business News suggested Samsung would release the Note 2 (with a flexible display) sometime in October, so as to compete against Apple's iPhone 5.
The report explained Samsung was in the midst of developing a large-screen smartphone (display size greater than 5in) and, apparently, a prototype of the Note 2 has considerable similarities to the newly launched Galaxy S3. The Note 2, the report added, could come with an Unbreakable Plane (UBP) display to accommodate space for the baseband core chip and application processor.