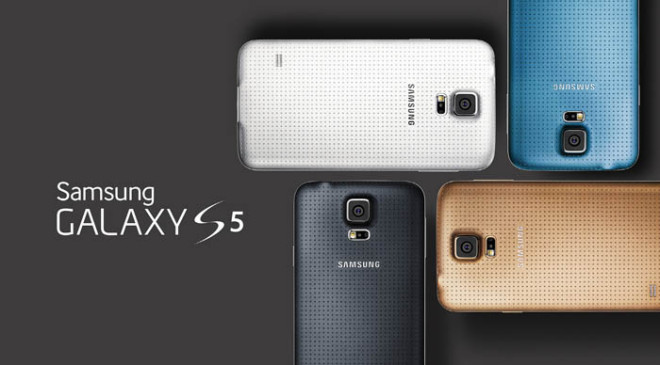 Until hours before the launch of its highly anticipated flagship smartphone for 2014, Samsung had done a reasonably good job of keeping the Samsung Galaxy S5 under wraps.
However it appears the South Korean company has given a select number of journalists a sneak preview of its new phone and while the company itself has been keeping tight-lipped, one UK online publication hasn't been quite so successful in keeping the Galaxy S5 details secret
On Monday morning the website's hands-on review of the Galaxy S5 was erroneously published in full, revealing all the details about the Galaxy S5. It was quickly taken offline, but not before all the details were leaked.
At the same time a Saudi Arabian-based Android Twitter account has published a series of images of the phone showing it next to last year's Galaxy S4, and photo's which match the images posted on the UK publication's website.
Here are the key features of the Galaxy S5:
5.1in screen (1920 x 1080 pixel resolution)
Android 4.4 (KitKat) with TouchWiz
Fingerprint Reader on Home Button
Heart Rate Monitor on rear cover
Download Booster
16 megapixel camera capable of 4K video recording
IP67-certified: dust and water resistant
Release date: April
Price: Unknown
Sensors galore
The Samsung Galaxy S5 will feature a fingerprint sensor integrated into the home button, a heart rate monitor on the rear cover of the phone and a waterproof design which is very similar to last year's model.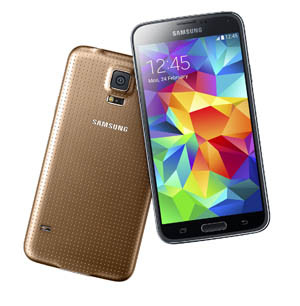 As well as monitoring your steps and tracking what calories you've burnt, the Galaxy S5 will now also be able to monitor your heart rate, using the new S Health 3.0 app which comes bundled with the phone.Samsung is clearly looking to cash in on the health and fitness trend we've seen in technology in the last year.
Just how (or why) someone would use the heart rate monitor on a regular basis is not clear, as holding your finger against it during a run or workout is just not practical. Samsung is clearly betting big on heart rate monitors, including one on its new Gear 2 smartwatches which it also launched at Mobile World Congress.
While the heart-rate monitor may be something of a gimmick, it sounds like the fingerprint reader could be more useful that the Touch ID system Apple introduced on the iPhone 5s.
Fingerprint payments
According to the hands-on review, the fingerprint scanner is integrated into the home button and can register three separate fingerprints. Taking eight swipes to recognise your fingerprint, the system can be used to unlock the phone, but also to make purchases online through PayPal.
While Apple's system allows for purchases to be made via iTunes and the App Store, this system could be much more useful.
Samsung has also followed Sony's lead by making the Galaxy S5 IP67-certified making it dust and water resistant. This has however meant the microUSB port on the bottom of the phone is covered with a plastic flap – which will be annoying when charging or transferring data.
The phone comes with the latest version of Google's operating system – Android 4.4 (KitKat) – which has been skinned with a new version of Samsung's own Touchwiz interface with app icons now appearing rounded like those in iOS 7. Samsung has also introduced a new way to access it My Magazine app, with a swipe to the left on the homescreen – a place usually reserved for Google Now.
Another new feature is Download Booster, which is designed to make use of both Wi-fi and 4G LTE at the same time to speed up downloading large files.
Smart camera
Samsung has also improved its camera, with the 16 megapixel sensor capable of capturing 4K video – just like the Sony Xperia Z2 which was launched earlier on Monday.
The camera is also said to have a slow motion feature which is a function seen in the iPhone 5s last year. The camera's Selective Focus feature will allow users to re-focus a picture after you have taken it, something akin to the ability of the Lytro camera.
It should be noted that Samsung is rumoured to launch two versions of the Galaxy S5, one a premium version with a metal chassis, and a cheaper one which uses a plastic chassis just as previous versions have done.
The leaked Galaxy S5 we are taling about here is made of plastic and its design is very reminiscent of the Galaxy S4, but with a slightly larger footprint.
The rear cover features a dimpled design and the Galaxy s5 is expected to come in blue, white and gold versions.
The hands-on review did not go into details on the processor, RAM or local storage, but did mention that there will continue to be a microSD card slot fo expand storage.
The Galaxy S5 features a 5.2in screen which has a resolution of 1920 x 1080 (and not the 2K resolution which had been predicted).
Conclusion
If - and we have to take this information with a small pinch of salt despite it looking very legitimate - this is Samsung's flagship model for 2014, there are likely to be a lot of disappointed people who had been hoping for a new design for Samsung's flagship model.
Samsung is clearly hoping a fingerprint scanner and heart rate monitor together with a better camera and faster download speeds will be enough to keep it at the top of the smartphone market. However, with lots of manufacturers lining up to take its place, I'm not sure this Galaxy S5 has enough to make it the smartphone of 2014.