Galaxy S5 Key Features:
Fingerprint scanner
Heart-rate Monitor
Android 4.4 (KitKat) with TouchWiz
16 megapxiel camera
5.1in screen (1920 x 1080)
Price as reviewed - £550
Samsung Galaxy S5 Review
Samsung saw huge success with the Galaxy S3 a couple of years ago. Last year the Galaxy S4 was seen as somewhat of a misfire and this year the company is back with the Galaxy S5 to try and regain some of the momentum it lost in 2013.
The Galaxy S5, like all high-end smartphones from the likes of Apple, HTC and Sony features a fast processor, high resolution screen decent camera and a hefty price tag.
And so, in the spirit of keeping things to the point, I'm going to spend most of this review looking at the features Samsung is hoping will set it apart from its competitors - starting with design.
---
Galaxy S5: Design
---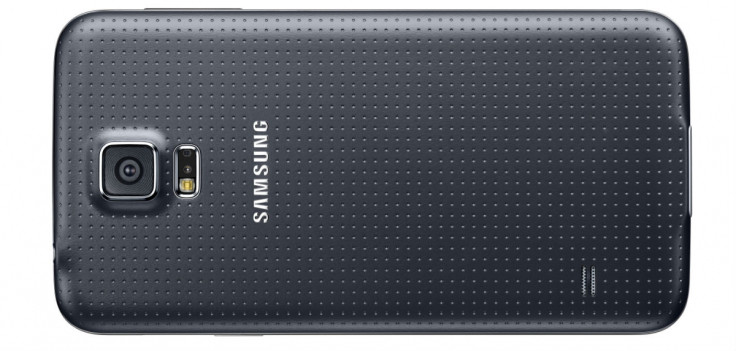 Despite rumours to the contrary before launch, Samsung hasn't gone all metal and glass in the construction of the S5 like its rivals, preferring to stick with the plastic materials used in all previous Galaxy S models.
There is not much to say about the design really. If you've seen a Galaxy S4, then you'll have a good idea of what the Galaxy S5 looks and feels like. Saying that, I fell it is much more compact than the HTC One (M8) which we looked at last week, and was more comfortable to use one-handed.
Samsung has added an IP67-rating to the phone, meaning - like the Sony Xperia Z range - it is dust and water proof. This means three things.
First, you have a cover over the microUSB charging port which is a pain, but necessary for the IP67 rating.
Second, whatever special coating has been put on the rear dimpled cover to make it waterproof has made it incredible slippy, which is a pain.
Finally, you can spill you're tea on the phone without any worries.
The phone is available in four colours (black, white, blue and gold).
---
Galaxy S5: Fingerprint scanner
---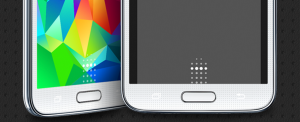 Samsung has followed Apple's lead by introducing a fingerprint scanner on the home button of its flagship smartphone. It is used primarily to unlock the phone, but can also be used as an alternative to entering passwords or securing transactions.

Samsung has released an API to developers already, but so far there has been little take up.
Setup is easy - necessitating you to swipe your finger across the button multiple times - and you can register up to three different fingers to one device.
While Apple gets you to hold your finger in the concave home button of the iPhone 5s, Samsung asks you to swipe your finger across the home button of the Galaxy S5.
Not a problem you may think, but in reality trying to get the Galaxy S5 to recognise your thumb print while using the phone one-handed is almost impossible.
Apple lets you scan your fingerprint in any orientation but for the Galaxy S5 version to work, you have to swipe down vertically otherwise it won't work - which means that after a week of frustration, I went back to the tried and trusted method of entering a pin number.
A waste of what could potentially be a big feature if developers get on board.
---
Galaxy S5: Heart-rate monitor
---
A Samsung official put an extra zero at the end of the heart-rate monitor order and so the company decided instead of returning them, to put them in the company's new flagship smartphone.
This may or may not be true but it is the only plausible reason I can think of why Samsung thought it was a good idea to put a heart-rate monitor on the rear cover of the Galaxy S5.
I get that Samsung is making a big play for health and fitness, but in what circumstances does the company ever expect someone to use this?
Yes, it works. Yes, you can check your heart-rate. But after you and three of your friends have done this once, you'll never use it again.
In some cases Samsung, less is more.
---
Galaxy S5: Screen, Processor and Battery
---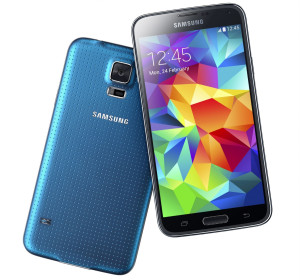 Ahead of the Galaxy S5 launch, many people predicted the phone would have a super sharp 2K resolution (2,560 x 1,440 pixels) but it turns out that Samsung has simply made the phone 0.1in bigger and retained the Full HD resolution (1920 x 1080). And there is absolutely nothing wrong with that. It is still an excellent screen, just as it was on the Galaxy S4.
In terms of processing power, Samsung has the same Snapdragon 801 chipset as the HTC One (M8) which is very fast and very powerful. However I did find that the interface was slow to switch between apps at times which I wouldn't have expected, and wasn't noticeable on the HTC.
The Galaxy S5 has 2GB of RAM, comes in versions with 16GB or 32GB of built-in storage and has a microSD card slot to expand that storage up to 128GB.
The phone also has the usual connectivity options (4G, NFC, Bluetooth 4.0) but it also has dual Wi-Fi antennas to boost available speeds.
The phone comes with a large 2,800mAh battery which I found gave me a good day and a half of use, which is impressive. Samsung also has an Ultra Power Saving Mode which.....well you can probably guess....and it will extend your battery life to two full days with judicial use.
---
Galaxy S5: Software
---
As usual Samsung has topped Android with its own TouchWiz interface. I'm not sure if it's that I'm just getting used to it or that the tweaks Samsung have made this year are making it better, but I didn't find all the extra gubbins that Samsung has added to be a problem.
Samsung has included it's own Flipboard-meets-Blinkfeed style mashup to the home screen called My Magazine - where Google Now is usually found - but you don't really need to use it if you don't want to.
Samsung has also improved the Settings interface dramatically from last year, though there are still way too many options, menus and steps to take to get where you want.
My big problem with TouchWiz is that it seems to slow down the whole phone. Pure Android - as seen on the Nexus 5 - is very fast, but the Galaxy S5 interface seems sluggish to me, which is a pity.
---
Galaxy S5: Camera
---
Samsung hasn't tried to do anything gimmicky like HTC's dual sensor configuration on the One (M8), choosing instead to boost the pixel count from 13 megapixels to 16 megapixels, add a super-fast autofocusing and the option to record super-high resolution video.
The result is an excellent all-round camera which offers huge levels of detail in daytime settings and decent low light performance. Add to that great panorama and HDR modes and this is one of the best smartphone cameras out there.
Video recording is also superb, including a slow-mo mode for when you really want to show off.
The camera app has also been redesigned and the grid interface works well, though the huge amount of options, filters and settings available can be initially overwhelming.
---
Galaxy S5: The Competition
---
Samsung is by far and away the biggest smartphone manufacturer in the world, but this is built on selling huge volumes of phones at the mid-to-low end of the market.
At the top-end of the market - where the Galaxy S5 certainly sits - Samsung faces stiff competition. We have already seen HTC's impressive One (M8) launched this year and Sony will launch its Xperia Z2 in the coming weeks.
However the biggest challenge to the Galaxy S5 becoming the biggest-selling smartphone of 2014 will be Apple's larger iPhone 6, which is expected to launch in September.
---
Galaxy S5: Verdict
---
The Samsung Galaxy S5 is another solid smartphone from the South Korean company. It has a great camera, good screen and great battery life. It's look and feel may not be premium but it is certainly an improvement on the Galaxy S4.
But there are missteps here too. The heart-rate monitor is just baffling, the fingerprint sensor is frustratingly awkward to use and the interface isn't the fastest.
These niggles are annoying and while they are not huge errors, they do take away from the sense that this is a truly great smartphone.
Scores
Screen 9/10 – Excellent
Camera 9/10 – Great all round performance on stills and video
Software 7/10 – TouchWiz is better but seem to slow down the phone
Design 8/10 – Not great, not terrible. Plastic instead of metal makes it feel slightly cheap.
Build quality 9/10 – Now waterproof, the phone feels very solid
Overall 8/10 – An improvement on the S4, but minor niggles hold it back
The Good
Great screen
Great camera
Good battery life
The Bad
Sluggish interface
Fingerprint scanner doesn't work
Heart-rate monitor is....well....there