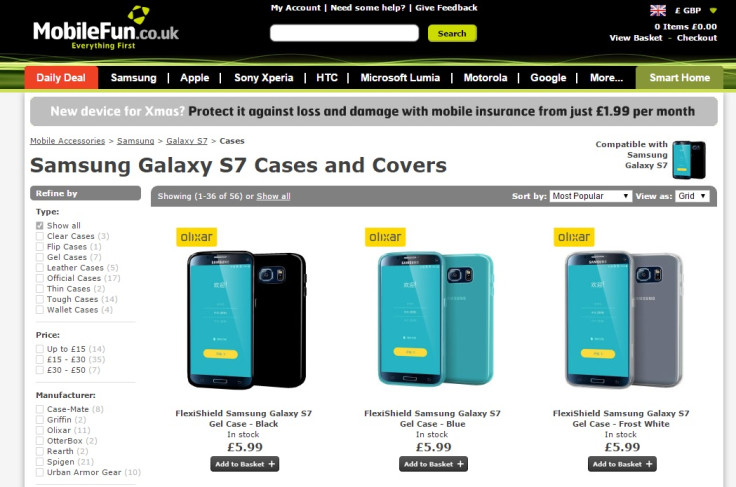 The Samsung Galaxy S7, S7 Edge and S7 Plus have all been revealed by a British mobile phone and accessory retailer. The website shows all three handsets alongside a range of covers and cases for each.
The leak occurred just weeks before Samsung is expected to formally announce the trio of new handsets at Mobile World Congress in Barcelona in February. This news also suggests Samsung will not announce a Galaxy S7 Edge Plus at the event, and it is now assumed the Galaxy S7 Plus will replace the Galaxy Note 5 as the company's newest big-screen handset.
At the time of publication, a number of cases are available for each handset and in numerous colours. The phones look almost identical to the year-old Galaxy S6 range, and although Mobile Fun which listed the cases doesn't include measurements, we expect the S7s to be the same size as the S6s.
Other details, confirmed today (27 January) by notoriously accurate technology tipster Evan Blass, include a return of the microSD card slot which was sorely missing from the Galaxy S6. This will allow Galaxy S7 buyers to increase the storage of their handset.
Also confirmed by Blass is water resistance, larger batteries, and screens which will retain the same size and resolution as the S6. This means 5.1in for the S7 and S7 Edge, and 5.7in for the S7 Plus; resolutions remain the same across the board at 2560 x 1440. The S7's camera will see its megapixel count lowered from 16MP to 12MP, but these pixels are now larger, letting in more light and creating brighter, better detailed photos.
Although Samsung is yet to say anything official about the S7 range, we fully expect it to be announced at a press event in Barcelona on 21 February, a day before Mobile World Congress kicks off in the same city. LG is expected to announce the G5 in Barcelona earlier the same day.
Galaxy S7 accessories are here, S7 Edge accessories are here, and the page of S7 Plus cases and covers is here.