Samsung has unveiled the smartphone that it hopes will bury the bad press regarding the explosive Note 7 as well as take on the latest big-hitters from Apple, LG, Google and Sony.
The S8 brings a roster of top-draw specs to the table, including the latest Snapdragon platform from Qualcomm and Samsung's first attempt at tapping the burgeoning digital assistant market sparked by Siri, Google Assistant and Amazon Alexa.
Amongst the many phones the Galaxy S8 will be vying for user's attention for is the Pixel XL, the 2016 flagship from Android provider Google that has proved a big hit with critics and users alike. Here's a look at how to two handsets compare.
Samsung Galaxy S8 vs Google Pixel XL: Technical specifications
| | | |
| --- | --- | --- |
| | Samsung Galaxy S8 | Google Pixel XL |
| Design | 148.9 x 68.1 x 8mm, 151g | 154.7 x 75.7 x 8.5mm, 168g |
| Display | 5.8in 2960 x 1440 Super AMOLED, 570ppi | 5.5in 2560 x 1440 AMOLED, 534ppi |
| Processor | Octa-core 2.3GHz, 4GB RAM | Quad-core 2.2GHz Qualcomm Snapdragon 821, 4GB RAM |
| OS | Android 7.0 Nougat, TouchWiz UI | Android 7.1.1 Nougat |
| Digital assistant | Bixby | Google Assistant |
| Camera | 12MP rear, 8MP front | 12.3MP rear, 8MP front |
| Battery | 3,000mAh | 3,450mAh |
| Storage | 64GB, expandable via microSD (256GB) | 32/128GB (non-expandable) |
| Price from | £689 | £699 |
Samsung Galaxy S8 vs Google Pixel XL: Design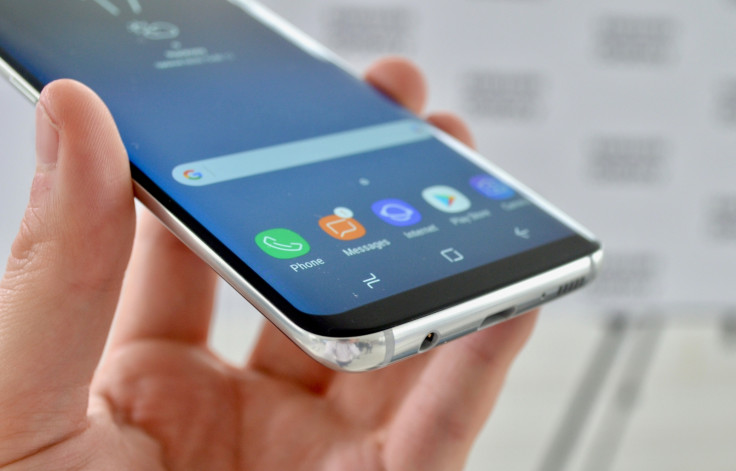 Despite having a larger screen, the Samsung Galaxy S8 is the smaller of the two handsets thanks to the edge-to-edge display, which almost entirely does away with the bezels framing the screen.
Samsung's latest flagship is also more resilient than the Google phone having been given IP68 certification, which makes it water resistant to a maximum depth of 1.5m for up to 30 minutes and sealed against from dust and dirt. The Pixel XL is equipped with an IP53 rating, which makes it built to deal with light sprays of water and dust but not a lot more.
Samsung Galaxy S8 vs Google Pixel XL: Display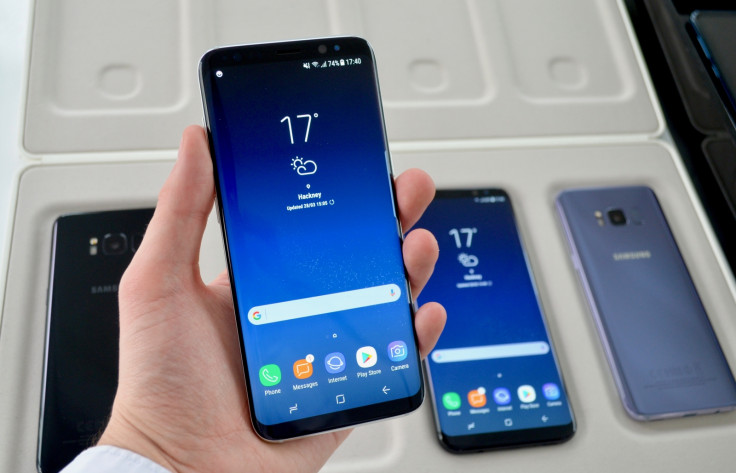 Of the two handsets the Samsung Galaxy S8 has a marginally larger screen of 5.8in, compared to the Pixel XL's 5.5in screen. Both handsets boast a QHD – or '2K' – resolution, although Samsung's flagship is slightly sharper at 2960 x 1440 pixels and boasting a higher pixel density.
Samsung Galaxy S8 vs Google Pixel XL: Processor
The Samsung Galaxy S8 features a 10nm octa-core chipset clocked at 2.3GHz. The SoC is backed up with 4GB RAM.
The Google Pixel XL was launched in 2016 and therefore comes with Qualcomm's quad-core Snapdragon 821 chipset, which features slightly slower clocks speeds of 2.2GHz but features the same amount of RAM.
Samsung Galaxy S8 vs Google Pixel XL: Operating system
Being the platform provider for the entire Android ecosystem, Google's own phones always get first dibs on the latest software. Being the case, the Google Pixel XL comes running the very latest version of Android 7.1.1 Nougat.
The Galaxy S8 will come with Android 7.0, although the latest firmware is expected to come to the handset in the coming months. The Galaxy S8 also features Samsung's latest TouchWiz overlay.
Samsung Galaxy S8 vs Google Pixel XL: Digital assistant
Samsung's Bixby voice assistant can be accesed by pressing a dedicated button on the left hand side of the handset. Being an Android Nougat device the S8 also comes with Google Assistant, so it will be interesting to see how to two systems co-exist.
Google Assistant was introduced with the Pixel and Pixel XL in 2017 and can be accessed by holding down the home button or by saying "OK Google".
Samsung Galaxy S8 vs Google Pixel XL: Camera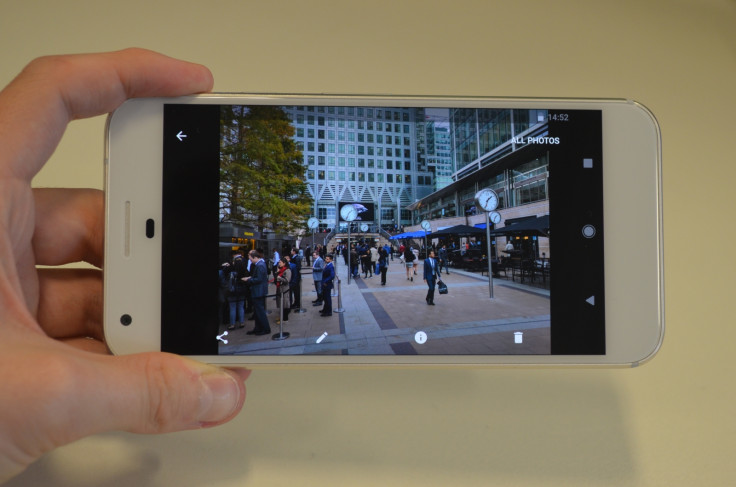 The Galaxy S8 comes with a single, rear-facing 12MP camera with an f/1.7 aperture lens. The secondary camera is an 8MP front-facing lens that features an iris scanner, allowing users to unlock their phone and access secure features using their eyes.
The Google Pixel XL features a slightly larger 12.3MP rear-facing sensor, albeit with a slightly narrower aperture. When it launched, DxOMark rated the Pixel's camera as the best on a smartphone. It will be interesting to see if this changes with the arrival of the S8.
Like the Galaxy S8, the Pixel XL has an 8MP camera for selfies but does not feature eye-scanning abilities.
Samsung Galaxy S8 vs Google Pixel XL: Battery
The Samsung Galaxy S8 comes with a non-removable 3,000mAh battery, which is the same as last year's Galaxy S7. One way the Samsung is helping users conserve battery on the S8 is with the ability to lower the display resolution to 1080p.
The Google Pixel XL has a larger 3450mAh battery, although it remains to be seen if bigger means better when it comes to staying power.
Samsung Galaxy S8 vs Google Pixel XL: Storage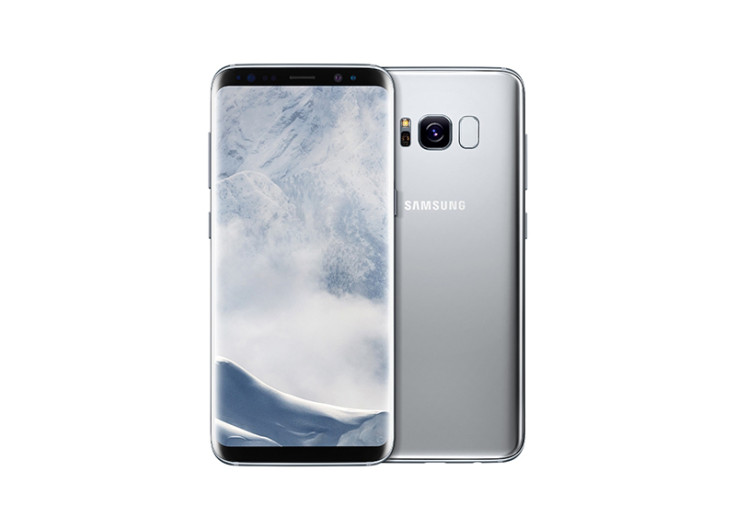 Samsung's latest flagship comes with 64GB on-board storage with a microSD slot offering expansion for an additional 256GB.
The Google Pixel XL has non expandable storage, but comes in 32GB and 128GB models.
Samsung Galaxy S8 vs Google Pixel XL: Price
The Galaxy S8 comes with an price of £689 for the 64GB SIM-free version. The Google Pixel XL is slightly more expensive, costing £699 for the entry-level 32GB model or £819 for the 128GB version. Bottom line: both will leave a significant dent in your wallet, although Samsung's offering will be marginally less devastating.
Samsung Galaxy S8 vs Google Pixel XL: Verdict
It goes without saying that the Samsung Galaxy S8 looks better on paper, which is natural given that it's the newer handset. Samsung has broken the design mould with an edge-to-edge display and comes packing the latest processor hardware, as well as Bixby, which now has to make itself heard above Amazon Alexa, Apple's Siri and Google's own Assistant.
But pure technical prowess isn't everything, and Samsung needs to prove that its own take on the Android platform can outshine the purity and functionality of Google's vanilla Nougat software. The Pixel is also guaranteed to be the first device to receive Android updates, which is important to consider if you want to be first to get the best new features from Google.
Stay tuned for our full review of the Samsung Galaxy S8.