Key Features:
10.5in display with 2560 x 1600 pixel resolution
Exynos 5 Octa-Core CPU
Android 4.4 (KitKat)
6.6mm; 467g
3GB RAM; 16GB storage
Price as Reviewed: £399
Samsung Galaxy Tab S (8.4) Review
Samsung's Galaxy Tab S range of tablets has set out to be the chief challenger to Apple's iPad Air and iPad mini.
While the 8.4in model outperforms every other Android tablet in its size range and is a genuine contender to the iPad Mini, the 10.5in version comes up against some stiff competition in the form of Sony's Xperia Z2 Tablet.
So, is it really what many analysts have touted as an "iPad killer"? Let's find out.

---
Galaxy Tab S: Design
---
Samsung tablets have a tendancy to feel a bit cheap when held up against the flawless design of the iPad.
For the first time with a Samsung tablet, however, the Galaxy Tab S has a truly premium feel. The faux-leather backing and cheap plastic parts that are found on recent tablets have been replaced by a dimpled rear cover and metal-edging - and all without a fake stitch in sight.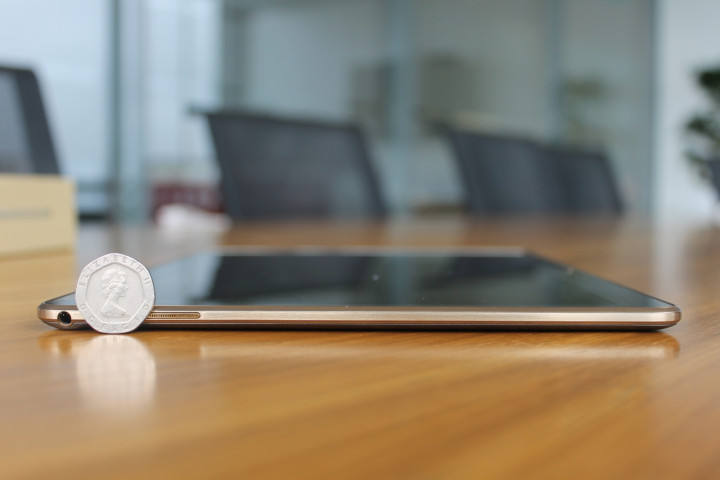 At 6.6 mm and 467g, the Galaxy Tab S is both thinner and lighter than the iPad Air. It is even thinner than Samsung's most recent Galaxy S smartphones.
This may sound impressive but it is still no match for the Z2, which manages to be over 40g lighter and 0.2mm thinner. On top of this, the Tab S lacks the water and dust-proof capabilities of its Sony counterpart.
---
Galaxy Tab S Review: Screen
---
It's hard to argue with Samsung's description of the screen on the Tab S as the "world's greatest", as no other tablet on the market rivals its clarity, crispness and colour reproduction.
The Galaxy Tab S uses a super AMOLED display that delivers more than 90% of Adobe RGB colour coverage with a resolution of 2560 x 1600 pixels. In contrast the iPad Air only offers 70% colour coverage.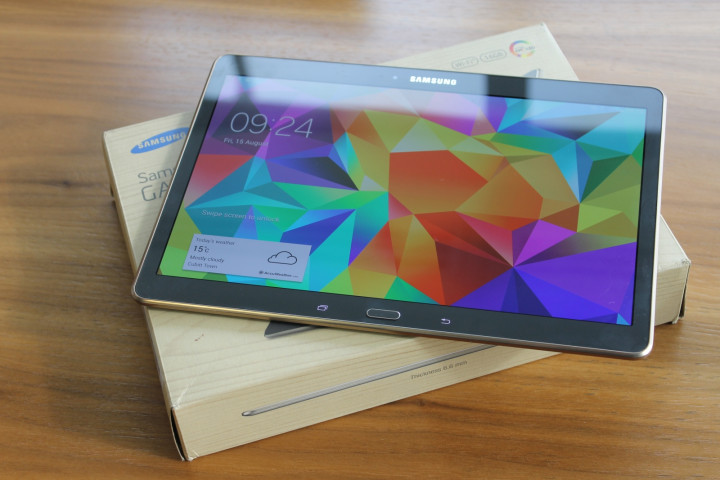 Samsung also cites the Adaptive Display technology as one of the key features of the Tab S. This allows the screen to adjust its saturation and sharpness based on the application and viewing environment. Although useful if switching between reading an e-book or watching a film, the feature can over-saturate colours and compensate too much in certain circumstances.
Such issues can easily be overcome by turning off Adaptive Display and leaving it in Basic mode.
---
Galaxy Tab S Review: Hardware, Performance and Battery Life
---
Samsung's Octa-core Exynos 5 chip, combined with a massive 3GB of RAM, means that the performance of the Tab S is pretty much flawless.
There were no problems with multi-tasking and barely any lag when overloaded with more applications than would ever reasonably be used at one time.
The inclusion of the fingerprint scanner is also a nice touch, though the sensor is still not as seamless as the iPhone 5s.
In terms of battery, the Tab S performed fairly well. One charge lasted around eight hours of mixed use, involving gameplay, internet browsing and video playback.
---
Galaxy Tab S Review: Camera & Speakers
---
It seems that very few people actually buy a tablet for its picture-taking abilities but nevertheless the 8 megapixel camera on the rear of the Tab S provides an adequate option for anyone who is that way inclined.
More likely, a user is going to want a decent front-facing camera for making video calls, and at 2.1 megapixels the Tab S's camera is up to the job. This is better than the iPad Air's offering but still not quite as good as the 2.2 megapixel Xperia Z2 Tablet camera.
Speakers on the sides of the Tab S (in landscape mode) can get in the way if watching a movie while holding the device in your hands, though this only a minor complaint in what are otherwise perfectly decent tablet speakers.
---
Galaxy Tab S Review: Software
---
As was pointed out in the review of this tablet's slightly smaller namesake, the biggest weakness of all Android tablets is currently the lack of tablet-optimised apps and software.
The number of apps developed specifically for Android is still well behind iOS, although Google's Play Store does feature more apps than Apple's App Store.
A nice touch on the Tab S is the inclusion of "Galaxy Gifts", meaning owners can benefit from plenty of freebies, like one free eBook a month from Kindle.
Samsung's own apps like Papergarden, its digital magazine interface, also come with free magazines like Vogue and GQ thanks to its partnership with Conde Nast.
---
Galaxy Tab S Review: Value and Verdict
---
At £399, the Samsung Galaxy Tab S (10.5) is the same price as the iPad Air. For your money, Samsung's device is a respectable alternative to Apple's tablet, though both are undercut by the Sony Xperia Z2 Tablet. The Z2 Tablet comes in at around £40 to £50 cheaper depending on the store, while arguably offering a better product.
The screen is unrivalled, the battery life is decent, the processor is powerful and the design is far less shabby than its predecessors. But its not enough to knock the Z2 Tablet off its perch as the best Android tablet out there.
Scores
Screen 10/10 - Unquestionably the best tablet screen around
Design 8/10 - Not quite Apple-quality, but not far off
Performance 9/10 - Fast and powerful
Value 7/10 - Not the best value Android tablet around
Software 7/10 - Needs more tablet-optimised apps
Overall 8.5/10 - The best Samsung tablet ever made
The Good
Great screen
Thin and light
Powerful processor
Good battery life
The Bad
Lack of tablet optimised apps on Android
Relatively expensive