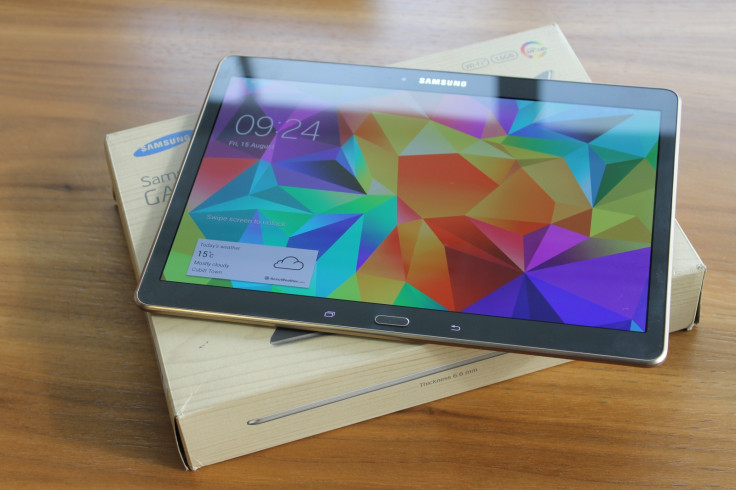 Owners of Samsung's Galaxy Tab S 10.5 tablets, who have subscribed to T-Mobile's wireless network services in the US, should check for the Android 5.0.2 (Lollipop) OS update which is now active and rolling out across T-Mobile's networks across the states.
Officially announcing the latest firmware rollout, T-Mobile has stated that its Galaxy Tab S 10.5 (T807) users can check out for Android Lollipop software bearing version number T807TUVU1BOE1.
Hence, T-Mobile-driven Samsung Galaxy Tab S 10.5 users can check their devices for new automatic over-the-air (OTA) notifications and let us know the rollout status of Lollipop for respective devices, in our comments section below.
Prior to the latest rollout, Samsung Galaxy Tab S 10.5 users subscribed to AT&T in the US were seeded the Android Lollipop firmware upgrade.
What's new with Lollipop, for T-Mobile-driven Samsung Galaxy Tab S 10.5 tablets:
Carrier-specific enhancements: NA
General list of enhancements brought along by Lollipop:
Material Design UI: Material design offers fluid animations, vivid coloured themes and 3D-Views
Improved Lockscreen: Shortcuts for both Phone and Camera are provided, along with Material Design-inspired notifications
Touchwiz: Brighter look and feel, bold colours, fluid animation inspired by Material Design
Floating Action Button: Floating action buttons provide easy access to the app's most important features, such as adding a new contact or favourite, or composing a text message
Interruptions: Priority notifications such as events and reminders, phone calls, and messages can be set up to sound or vibrate while all other notifications are muted
Recents: Easy access to your Chrome tabs right from the Recent apps page. Multi-window icons for ease of use during multi-tasking
Battery Saver: A battery saver feature that extends device use by up to 90 minutes
'OK Google' voice command: Talk to Google on the go to get quick answers, send a text, get directions and more
Connectivity: Improved network selection logic so that your device connects only if there is a verified internet connection on Wi-Fi
Security: SELinux enforcing for all applications means even better protection against vulnerabilities and malware. The Android Smart Lock secures your phone or tablet by pairing it with a trusted device like your wearable or even your car
How to manually search-for and download/install Android Lollipop OS update:
Android Lollipop firmware are generally available automatically via OTA, but these can also be manually searched-for, downloaded and installed as follows:
From the Home screen, tap Apps
Select Settings
Select the General tab
Tap About device
Tap OK
Select Start
A restart message will appear, choose OK
Updating Lollipop update via Samsung Kies software, using a computer:
Installing Samsung Kies
Download the most recent version of Kies by visiting the official Samsung Kies website
Double click the Kies file. The program will self extract, so no action is required
Select the desired Language and Location, then click Next
Read the licence agreement, check the box for "I accept" and click Next
Kies will begin the installation. No action is required
When the process is complete, click Finish
Preparing the Samsung Galaxy Tab S
From the home screen, press the Menu key
Tap Settings
Tap Developer options, if available. If not available, skip to step 7
Tap Ok
Tap USB Debugging
Tap the Home key to exit the settings menu
Insert the USB data cable into the phone and then into an available port on the computer
Select media device (MTP) at the phone prompt. The PC should recognise several devices and begin installation. This is normal and may take a few minutes. Unplug the data cable when completed
Updating the Samsung Galaxy Tab S
Open the Samsung Kies application
Allow the application to detect the device and display an available update notification
Follow the on screen prompts to complete the update.