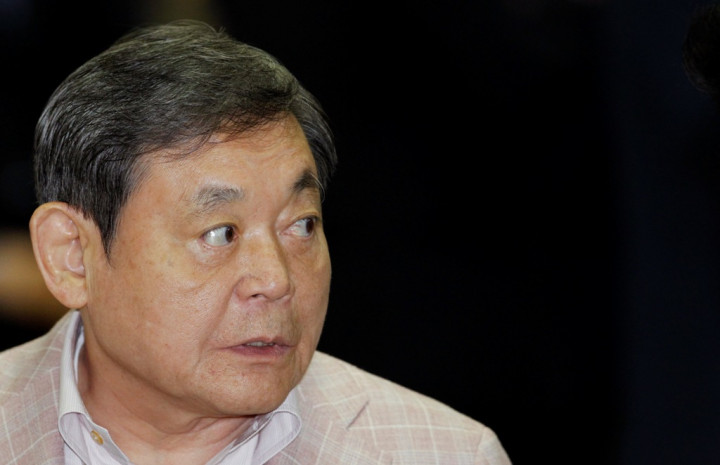 The heirs of Lee Kun-hee, chairman of Korean electronics giant Samsung, are facing a huge and unavoidable inheritance tax bill, as the 72-year-old is not likely to return to the company due to ill health.
His son Jay Lee, who is expected to be the heir apparent, and two daughters, Boo-jin and Seo-hyun, could face an inheritance tax bill of about $6bn (£3.6bn, €4.4bn), taking into account South Korea's tax rate for the ultra-rich at 50%, Reuters reported.
Lee Kun-hee's assets are mostly held in shares of Samsung Electronics and Samsung Life insurance, which currently have a market value of about 13tn won ($12.7bn). The likely tax bill for the Lee family would be about 6tn won, more than triple the 1.7tn won that South Korea collected in inheritance taxes in 2012.
Even at the great tax expense, the Lee family is expected to retain the shareholdings as they are crucial to keep management control of Samsung group's various affiliates, according to analysts.
"Without inheriting Chairman Lee Kun-hee's shares, the Lees will not be able to retain both ownership and control two generations from now," brokerage E*Trade Korea said in a report.
"The typical strategy is to adjust the amount of assets before death, take advantage of deductibles that are legally permitted or gift assets to push down the inheritance tax bill in advance. But at 6 trillion won, deductibles don't have much meaning," Reuters quoted as saying Ku Sang-su, a certified public accountant at law firm Jipyong.
"Once Chairman Lee passes, there aren't many options to reduce the inheritance tax."
Lee Kun-hee was admitted to hospital in May following a heart attack, and his condition is said to be gradually improving.
The heirs are forced to pay the bill also due to possible public condemnation on dodging.
From the Samsung group, Samsung Everland Inc, a key holding company within the group, and IT solutions affiliate Samsung SDS have announced initial public offerings. The deals are expected to help the heirs pay the looming inheritance tax bill, along with tightening their grip on the conglomerate.
Lee's three children hold big stakes in Samsung Everland and Samsung SDS, acquiring them at prices far below market value in various deals during the 1990s.
In connection with deals, Lee Kun-hee was charged with breach of trust and tax evasion in 2008-2009 trials, and was given a three-year jail sentence, but was freed following a presidential pardon.
The heirs may also reduce the tax burden by increasing dividends from affiliates and seeking a multi-year payment plan, according to analysts