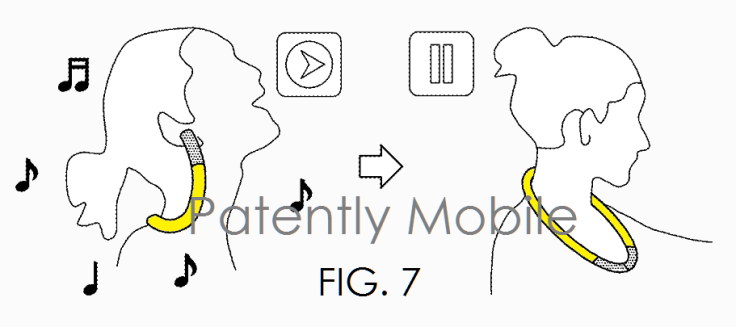 The US Patent & Trademark Office published a new patent application from Korean giant Samsung that reveals a unique smart necklace/ neck bracelet device that can be transformed into being either a wireless headset for listening to music or as a communications headset that could make or take phone calls. Although blue tooth devices and headphones like these that can take calls and play music already exist, what makes this different is that it will provide users with a projected 3D in-air holographic user interface (UI) so as to assist users' access or expand features and/or functionality of the bracelet.
"The hologram unit may show three-dimensional images in the air by using the interference of light," reads the patent filing. These light beams will assist in the aforesaid gesture control techniques.
Samsung notes that the device will use a highly flexible material such as silicon. The company also says the neck bracelet may recognise the operation of a user with an illumination sensor or a proximity sensor that can help in initiating or answering a call on the basis of a simple hand gesture made in front of the device that will also have a built-in camera.
Currently, the Samsung Gear circle and the Samsung Level U wireless headphones resemble the design of the smart necklace that the company has patented but they cannot be fully wrapped around the neck and have an open end. The patented future device, however, can be wrapped around like a necklace as shown in the photo above and can be detached when one wishes to use it as a headphone.