Samsung's new Notebook 9 Pro Windows 10-powered PC embeds S Pen
The built-in S Pen is capable of detecting more than 4,000 levels of pressure.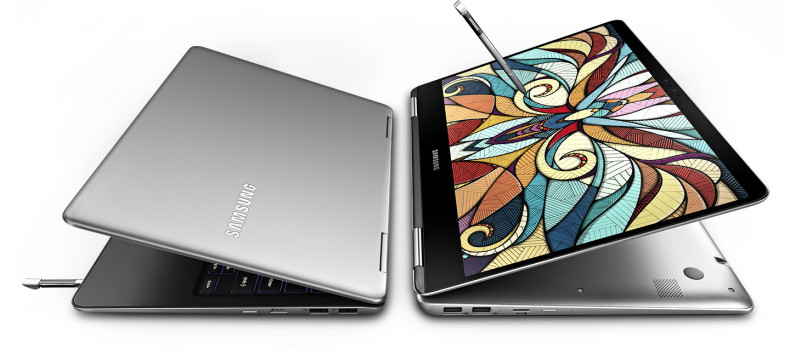 Samsung on 30 May unveiled the Notebook 9 Pro laptop with built-in S Pen at the Computex 2017 event taking place in Taipei. The company is yet to reveal pricing and release details, although it won't take too long to hit the stores.
Available in 13.3in and 15in variants, the PC offers a 360 degree touchscreen display and runs the Windows 10 Home operating system.
Samsung says the 0.7mm tip of the S pen can detect more than 4,000 levels of pressure and its tilt allows users to write and draw in a comfortable position. The S Pen allows users to draw in the Photos app, add notes to map using Windows Ink and highlight web pages in the Microsoft Edge browser.
Intel's 7th generation Core i7 processor drives power for the Windows PC to offer a multi-tasking experience. The 13.3in model packs 8GB of RAM, whereas the 15in model comes with 16GB of RAM. But both offer 256GB of internal storage.
The laptop supports fast charging, with a convenient method of recharging with a USB Type-C using a compatible smartphone charger and portable battery pack. Bluetooth 4.1, 720p HD camera and 54Wh battery are some of the key elements of the laptop that would be available in titan silver colour.
"Consumers today require their laptop to let them multi-task more than ever and with the Notebook 9 Pro, Samsung delivers just that, a powerful and versatile device with superior computing experience," said Alanna Cotton, vice president and general manager of product marketing at Samsung Electronics America in a statement.
"We continue to push boundaries in our notebook line by bridging powerful computing with gorgeous displays, and now our revolutionary S Pen which enables consumers to do even more," added Cotton.