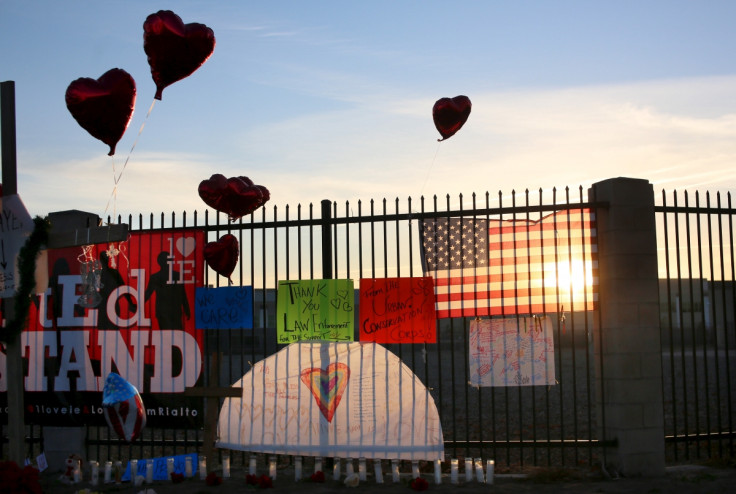 Federal Bureau of Investigation (FBI) officers have raided the house of a man described as a childhood friend of Syed Rizwan Farook, on suspicions he may have bought the assault rifles that Farook and his wife used to kill 14 people in the San Bernardino massacre. The house in Riverside, California, belongs to Enrique Marquez. Farook is believed to have lived next door to Marquez more than a decade ago.
According to police, the raid was carried out at Marquez's home on 5 December. Police believe Marquez bought the two AR15 rifles three years ago but maintained that he was not a suspect in the killings. Police could not talk to Marquez because he admitted himself into a mental health facility soon after the San Bernardino attack.
"I heard the windows crashing, the garage door being torn, doors being broken down, you know, they were forcing their way in," neighbour Freddy Escamilia told Agence France-Presse.
Islamic State (Isis) has claimed that the couple, Farook, 28, and his wife Tashfeen Malik, 29, were "followers" of the terror group, also known as Daesh. Authorities are investigating the 2 December shoot-out as a terrorist attack.
Before the couple carried out the killings, Malik, on her Facebook page, had pledged alliance to Isis. Malik's aunt Hifza Batool, who lives in Pakistan, was quoted as saying by CBS News: "I recently heard it from relatives that she has become a religious person, and she often tells people to live according to the teachings of Islam." Investigators are trying to piece together clues to determine what drove the couple to carry out the rampage.
The couple most recently lived in Redlands, California, where police recovered tools for making explosives and over 3,000 rounds of ammunition. The couple were gunned down by police after they had killed 14 people.
US President Barack Obama, addressing the nation from the Oval office on 7 December, called the mass shooting carried out by the husband and wife duo as a "terrorist attack". "This was an act of terrorism designed to kill innocent people. Here's what I want you to know. The threat from terrorism is real, but we will overcome it. We will destroy ISIL [Isis] and any other organisation that tries to harm us," Obama said.