WARNING: Graphic content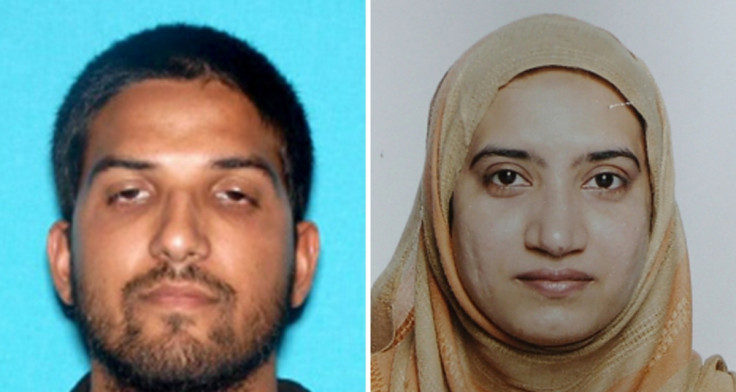 San Bernardino gunman Syed Farook was in contact with at least two Islamic terror organizations overseas before he embarked on a killing spree with his wife Tashfeen Malik, which left 14 people dead. An unnamed police source told the LA Times that Farook allegedly had 'some kind' of contact with Al Nusra Front, an Al-Qaeda backed group in Syria, and al Shabaab in Somalia. Details of the extent and precise nature of his contact with the terror organizations is unclear.
Investigators had earlier been trying to determine whether the husband and wife killers were self-radicalised or had been acting under the direction of an extremist group. The FBI has said they uncovered evidence that Farook was in contact with domestic and international extremists by phone and via social media and had travelled to Saudi Arabia and possibly also to Pakistan. They later confirmed that the deadly mass shooting on a social services centre in San Bernardino on Wednesday 2 December, was being investigated as a possible "act of terrorism.
Islamic State (ISIS) has since claimed responsibility for the San Bernardino shootings. The terrorist group, which has taken over large swathes of Syria and Iraq, said on an online radio broadcast that Syed Rizwan Farook and his wife Tashfeen Malik were "followers" of the Islamic fundamentalists.
"Two followers of Islamic State attacked, several days ago, a centre in San Bernardino in California," the IS's daily broadcast al-Bayan said on Friday, 5 December. The radio station is also connected to Dabiq, a propaganda magazine published by IS. Earlier, the Aamaq news agency, an IS affiliated activist group which represents the media arm of the terror organisation and disseminates IS propaganda, also claimed on its website that the attack was carried out by followers of IS.
The pair may have been looking at IS propaganda before committing the atrocity, it has been reported. Malik, 27, posted a message on Facebook in support of IS (Daesh) leader Abu Bakr al-Baghdadi under a different name on or around the time of the shooting, demonstrating her allegiance to Daesh.
Farook, who was born in the U.S. to a Pakistani family and raised in Southern California, travelled to Saudi Arabia in 2013 for the hajj pilgrimage to Mecca. It is believed that he first met Malik on an online dating site and during his stay abroad, the pair was engaged. He later brought the Pakistan native over to the US on a K-1 fiancee visa. It is now thought that on at least one of Farook's two trips to Saudi Arabia in 2013 and 2014, one or both of the spouses reached out to suspected members of al Qaeda Mail Online reports.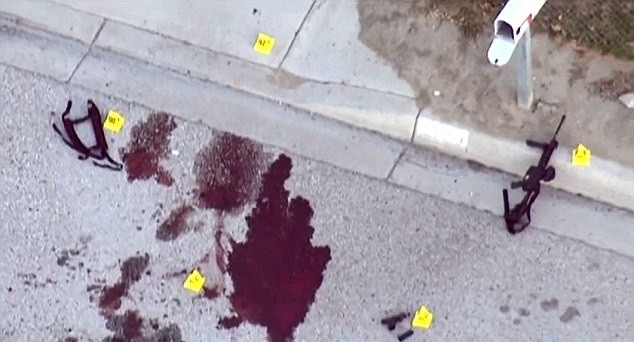 The reports of Farooq's links to two terror groups comes as a graphic image was released showing his body lying in a pool of his own blood after he was finally gunned down by police in a shootout. The image shows the 28-year-old health department worker dressed in all black tactical gear, lying face down on a paved road. His arms are held behind his back with a pair of handcuffs.
According to reports the couple were wearing additional pockets and straps to carry more ammunition and also wore GoPro cameras on their heads, to record the massacre.
Farook has been described by neighbours as a softly spoken man known for his quick smile and his interest in restoring old cars, and was a devout Muslim who prayed daily at San Bernardino's Dar Al Uloom Al Islamiyah mosque. He had no criminal record and was not on the radar of local or federal law enforcement before the attack.
FBI agents are examining discarded mobile phones and a computer hard drive left behind by the couple in their Redlands, California, rental home to try to establish a motive for the killings.