Islamic State (ISIS) have claimed responsibility for the San Bernardino shootings which claimed the lives of 14 people on Wednesday, 2 December. The terrorist group, which has taken over large swathes of Syria and Iraq, has said on an online radio broadcast that Syed Rizwan Farook and his wife Tashfeen Malik were "followers" of the Islamic fundamentalists.
Malik, 27, is reported to have posted a message on Facebook in support of IS (Daesh) leader Abu Bakr al-Baghdadi under a different name on or around the time of the sickening shootings. The FBI has stated it are investigating whether Farook, 28, was in contact with other terrorist groups, such as Al Qaeda-affiliated Al-Nusra Front and IS, in the lead up to the killings.
"Two followers of Islamic State attacked, several days ago, a centre in San Bernadino in California," the IS's daily broadcast al-Bayan said on Friday, 5 December. The radio station is also connected to Dabiq – a propaganda magazine published by IS.
Motive still unclear
The news comes as lawyers representing the family of the husband and wife who murdered 14 people in San Bernardino said they family are in "complete shock" after the shooting. The lawyers, David Chesley and Mohamed Abuershaid, added that people should not rush to conclusions, as the motive for the shooting was still unclear.
Chesley said: "The motive is very unclear, it could be a disgruntled worker. There has been no evidence that they have found yet... that they are linked to a larger organised terrorist group or terrorist cell."
The lawyers have added the families of the pair had no idea that Farook and Malik were capable of such brutality.
On Thursday, Abuershaid said: "The family are in complete shock. They had no idea whatsoever. This was their brother by blood, but they weren't too close to him. Everybody had their own families, everybody had their own children and everybody had their own life.
"The family are very sad for all the victims. They have two losses of their own as well."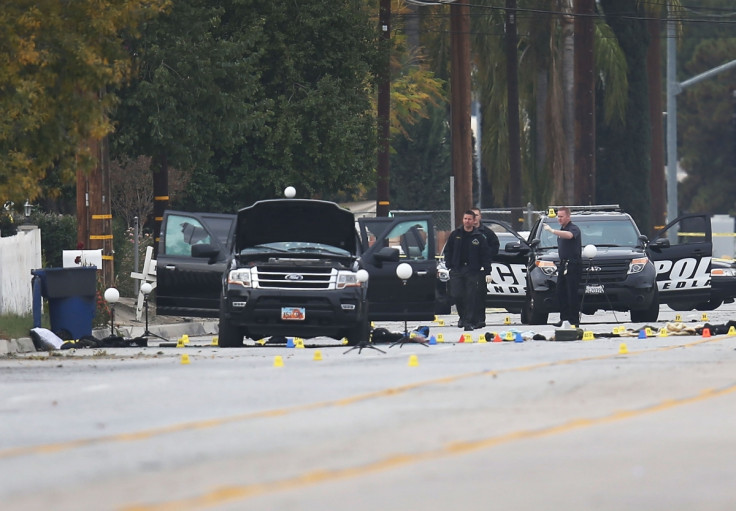 Malik and her husband Farook died in a shootout with police after the killings at a social services centre in the southern Californian city, just east of Los Angeles. And the FBI have stated that they are investigating the incident as an "act of terrorism".
It has emerged Farook and Malik had rented a home near a location where investigators found thousands of rounds of ammunition and homemade bombs, including 12 pipe bombs, leading to the conclusion that more attackers were planned. FBI Director James Comey has said early indications are that the couple were "potentially inspired" by foreign terror groups, such as IS.
Daesh pledge on Facebook
According to a statement from Facebook, Malik had declared allegiance to IS near the time of the shooting. And although FBI Director James Comey said "a lot of evidence that doesn't make sense" they were investigating reports that Malik had also pledged allegiance to the terrorist group.
Farook, a US national, was said to have very few friends whilst Pakistani-born wife, Malik, was said to have been very conservative and did not interact with male family members and wore a burka. They had apparently met on a Muslim dating site. Malik had lived in Saudi Arabia for 20 years.