San Bernardino shooting: Killer couple Tashfeen Malik and Syed Farook 'met on matrimonial site'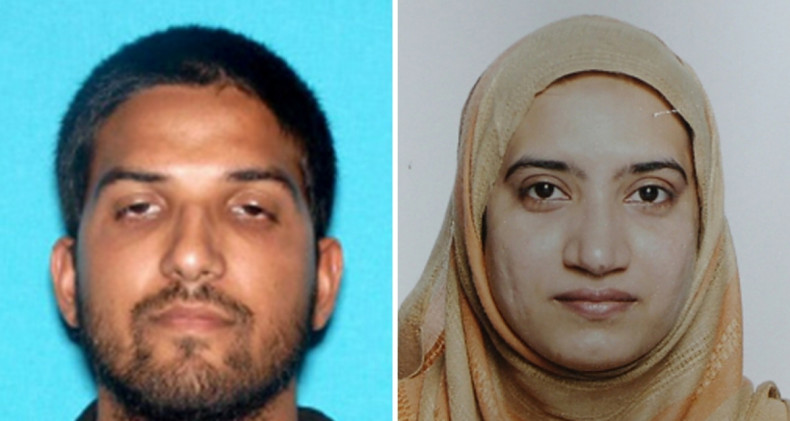 The husband and wife killers who carried out the massacre in San Bernardino, California that left 14 people dead, met through a "matrimonial website", it has been reported. Syed Farook, 28, and Tashfeen Malik, 29, had been emailing one another for several weeks after connecting through the site.
They met for the first time in person during the 2013 Hajj pilgrimage in Mecca, Saudi Arabia, when they became engaged. A statement written by Farooq was attached to Malik's fiancée visa application, US visa records reveal.
He wrote: "We decided to have both of our families meet on Thursday, October 3rd, 2013 at the house of my fiancé's (sic) relative who lives not too far from the Ajyad Hotel in Mecca. My fiancé (sic) and her family drove from Riyadh to Mecca so that we could meet and it is on this day that we got engaged."
The statement was signed and dated by Farook 20 January 2014. According to Reuters, immigration records indicated that Malik answered "no" to questions relating to whether she had ever received weapons training or engaged in terrorist activity. Malik was granted the K-1 fiancée visa and allowed entry into the US in July 2014. The pair was married the following month.
FBI Director James Comey has said that the couple were already radicalised before they began their online courtship and had discussed martyrdom. US officials believe Farook may have been plotting an attack on a US target as early as 2011, consorting with long-time friend and neighbour Enrique Marquez Jr, 24.
The weapons used in the San Bernardino massacre were traced back to Marquez who was charged last week with conspiring to provide material support to terrorists. Police believe Marquez, a Muslim convert, bought the rifles three years ago although authorities do not believe he played a role in plotting the shootings.
It has also emerged that Farooq and Malik had visited various gun ranges in Southern California for target practice, days before they shot dead 14 people and wounded 21 others on 2 December.
The day after the deadly shoot-out, a Facebook page maintained by Malik under an alias revealed that she had pledged hers and Farook's allegiance to the leader of the Islamic State group. Investigators found they had more than 1,600 rounds of ammunition in their vehicle and thousands more at their home, as well as material that could be used to make bombs.
US security officials are now under pressure to explain how Malik and Farook managed to slip through the net, sparking an urgent review of the US screening procedures for vetting would-be immigrants.
The new process may include looking at the social media posts of applicants.
Senator Richard Burr who heads the Senate Intelligence Committee said: "We want to look at how our immigration process for a visa for a spouse broke down, that they didn't notice the radicalization."
On 18 December, President Barack Obama privately met relatives of the San Bernardino shootings when he visited the California town.