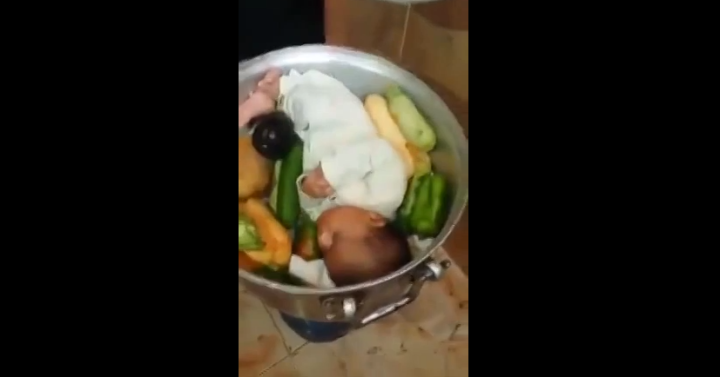 A man, reportedly with a Saudi accent, is seen tossing a newborn baby in a cooking pot in a video posted on YouTube, sparking major outrage.
Sabq Online newspaper first released the video clip that shows the man lifting the cooking pot lid to unveil a baby that seems to be a few months old cushioned between vegetables inside the pot.
The pot has been placed over what seems to be a gas cylinder cooking stove.
Emirates 24/7 claims that the man is believed to be Saudi and is saying: "We are having this for our dinner today."
Viewers of the video have harshly condemned the man and called for authorities to trace him.
One viewer, Maryam Al Hazli, comments, "Be careful not to copy with your children. This is a weak soul. You might be joking but it is wrong."
Last year, a YouTube video showing a Saudi businessman reportedly giving his friend a luxury SUV, as recompense for frightening him in prank when he unleashed his pet lion on him.
In other miscellaneous baby news, Saudi Arabia's interior ministry banned 51 baby names earlier this year, including "foreign" names, names related to royalty and those it considered to be blasphemous, Saudi Gazette reported.