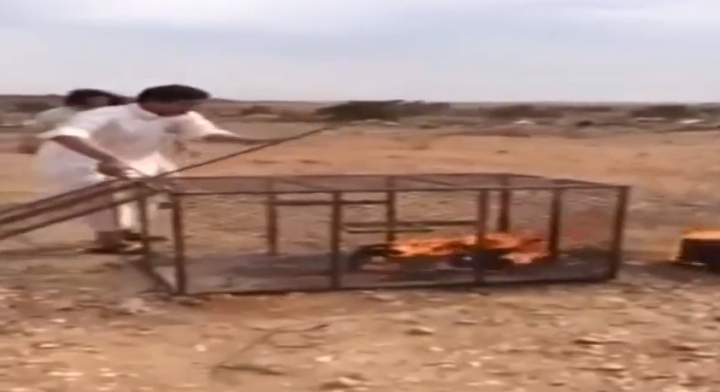 The Saudi Wildlife Commission has urged the public to help identify the perpetrators who burned a caged fox to death and posted the video online.
In the video that has gone viral on YouTube, a cardboard box is lit with fire and thrown inside the cage of a live and terrified fox.
Two men are then seen pouring an inflammable liquid to further fuel the fire.
A man is heard in the background saying that the fox is being punished for eating 30 chickens, reported Gulf News.
The Saudi Wildlife Commission has expressed shock and called for tough action against the perpetrators.
Prince Bandar Bin Saud Bin Mohammad, the President of the Saudi Wildlife Commission, said:
"Such an act is totally against human nature and values, perpetrated by terrorists and criminals. Their behaviour is exactly like what the members of the so-called Islamic State are doing, killing without mercy.
"Torturing an animal to death is not and cannot be condoned by anyone who claims he is a Muslim. And filming this abominable act to show off makes our heart bleed and deeply disturbs everyone who respects life."
Islam demands that we treat animals with kindness, but animal rights are something almost unheard of here."