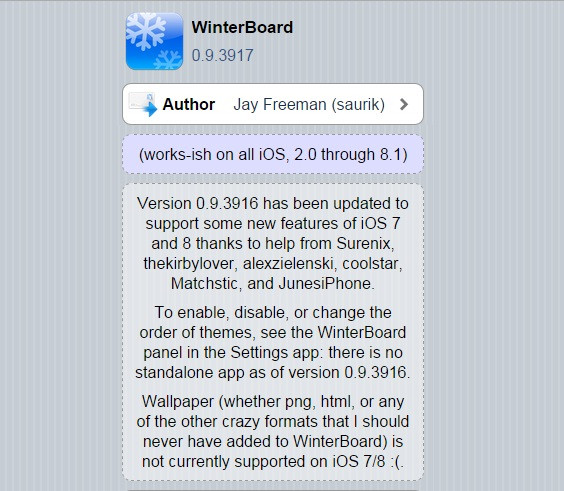 Well known jailbreak tweak developer and a member of iPhone Dev Team, Jay Freeman aka saurik, has updated his WinterBoard software to the latest version.
Saurik confirmed the availability of WinterBoard v0.9.3916, with updates for iOS 7 and iOS 8, via Twitter. According to the release note, the 0.9.3916 update, which works on all iOS and through 8.1, brings the following changes.
"Version 0.9.3916 has been updated to support some new features of iOS 7 and 8 thanks to help from Surenix, thekirbylover, alexzielenski, coolstar, Matchstic, and JunesiPhone.
To enable, disable, or change the order of themes, see the WinterBoard panel in the Settings app: there is no standalone app as of version 0.9.3916.
Wallpaper (whether png, html, or any of the other crazy formats that I should never have added to WinterBoard) is not currently supported on iOS 7/8."
Soon after the release of the 0.9.3916 version, Saurik issued another update, 0.9.3917, to WinterBoard which fixes all the issues reported in the previous version.
He claims to have been investigating an issue which is not related to WinterBoard, a file replacement extension for iOS using Cydia Substrate and often used for theming GUI elements such as app icons. You can get the latest version of WinterBoard on Cydia for free. Here are the changelogs for WinterBoard 0.9.3916 and 0.9.3917.
WinterBoard 0.9.3917 changelog
Fix crashes when changing themes
Folders/UIKit.framework for Assets
iPad: Wrong IconMask (Frenchitouch)
64-bit UISound Themse (Rockstar02)
Manual Respring Button (Surenix)
WinterBoard 0.9.3916 changelog
8.x: Support @3x Image Hunting
8.x: Remove SummerBoard Mode
7+8: Theme .car File PNGs (coolstar)
7+8: Preferences Icon (JunesiPhone)
6.x: Better SharedArtwork Hook
Better Resource Pathing (surenix)
New @3x WinterBoard Icon (Surenix)
Fix Crash in Bundle Theme Cache
Remove Standalone Application
Image Recorder Now Uses Bundles