While many of us hoped it would happen, it seemed too bonkers and too good to be true, but it turns out Seth Rogen's adult animation Sausage Party is a real thing and we're going to be seeing it in August on the big screen in the UK.
Following on from the first look image released in early March, a trailer has emerged of the comedy ahead of its cinema release, showcasing some of the cast members' food-based characters. But be warned those who think that this is a children's cartoon – it comes with a red band certificate in the US, meaning it is for over-18s only.
The trailer allows viewers to get a good look at the characters voiced by Kristen Wiig, Rogen, Edward Norton and David Krumholtz, who will be playing respectively Brenda the hot dog bun, Frank the frankfurter, Sammy Bagel Jr and Vash... a lavash. There is also a lot more insight into the plot.
Directed by Thomas & Friends' Greg Tiernan and Shrek 2's Conrad Vernon, the film follows Frank, after he falls out of a shopping cart and, along with his some other savoury friends, embarks on a journey to "discover the truth about his existence". However, the recently-released clip also details how Frank must try to save his friends and other fellow foods that have been purchased by a woman at the supermarket before they meet a grisly, unexpected fate of being sliced, diced and boiled.
Don't be fooled by the silly sounding plot, though, the screenplay has been written by talented comedy writers Evan Goldberg (Pineapple Express), The Night Before's Ariel Shaffir and Kyle Hunter as well as Rogen himself. On top of that, multiple Oscar-winner Alan Menken, the composer behind scores of films such as Beauty And The Beast and Pocahontas, has been brought on board to create the movie's music.
The cast is seriously impressive too. Other A-listers lending their voices to the movie include Jonah Hill as Carl, Michael Cera as Barry and Anders Holm as Troy (more sausages), Salma Hayek as Theresa the taco, Nick Kroll as the reportedly villainous Douche and Bill Hader as "some guacamole and an old bottle of liquor"... and evidently a supermarket employee judging by the sneak peak. James Franco, Danny McBride, Craig Robinson and Paul Rudd will also star. However, their roles in the movie are currently unknown.
At the moment, the movie is due to open in UK and US cinemas on 12 August 2016. Some lucky folks have already seen it however, when a work-in-progress rough cut was presented at the South by Southwest Film Festival (SXSW) over the weekend, and so far, it's received nothing but positive feedback. Cinema Blend editor Eric Eisenberg took to Twitter after the screening to gush about the film, saying "You've seriously never seen anything like #SausageParty, and the ending is absolutely brilliant. I'm standing outside & still laughing," while Regal Movies social media manager Stephen Brandow wrote: The world is a better place now that #SausageParty has been unleashed upon it. Perverse, hilarious with a bit of politics."
It also currently has a 9/10 rating on IMDb, the web's film bible.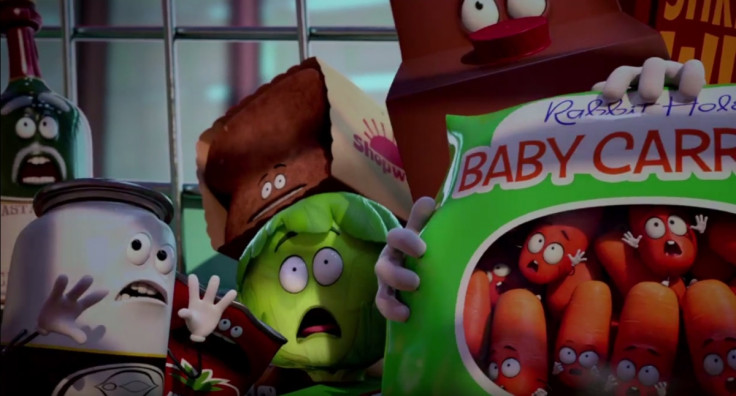 For more entertainment news follow A-List on Twitter @Alistinsider