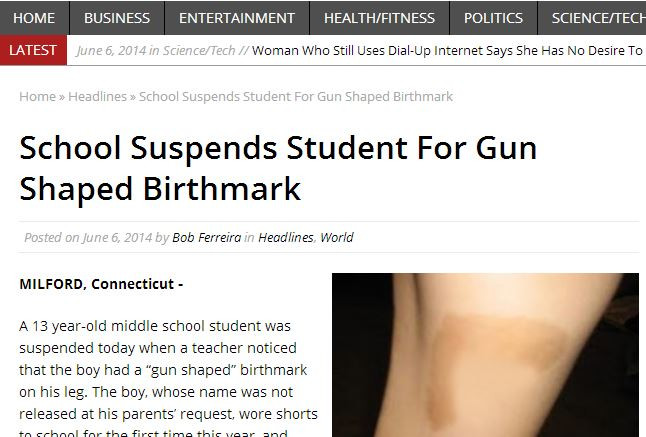 An article claiming that a school suspended a teenager for having a gun-shaped birthmark has been confirmed as a fake.
The story was posted on Empire News, a satirical website, which is well known for publishing fake stories with sensational headlines.
The bogus report read: "A 13-year-old middle school student was suspended today when a teacher noticed that the boy had a "gun shaped" birthmark on his leg. The boy, whose name was not released at his parents' request, wore shorts to school for the first time this year, and when the teacher, Charlene Brooks, saw the birthmark on his leg she immediately informed the school principal and superintendent.
"Recently, throughout the country, there has been an excessive amount of "gun paranoia" in schools, with children being suspended or even expelled for things as menial as biting a Pop-Tart into the shape of a gun or even just pointing a finger at someone else and saying "boom," which is what happened only a few short months ago in Ohion to 10-year-old Nathan Entingh."
Many Facebook and Twitter users took to social media to share the bizarre news report.
Such fake stories, including celebrity death hoaxes, are increasing day by day.
Previously, Empire News reported that Charles Manson has been granted parole.
In March, Tim Stevens, editor at large at CNET, told CBS: "A site like TMZ makes maybe 100 million page views a month. Obviously, these fake sites aren't getting anywhere near that, but if they can get really a fraction of that, they can make tens of thousands of dollars off of one of these fake stories over just a couple of days.
"If you're someone who just casually reads headlines or reads the first couple sentences of a story, you probably would never notice that these stories are fake."