Scorpion will return for season 3 with a two-hour premiere episode, airing on 3 October, Monday at 9pm EST on CBS Network. Following the super-sized premiere, the show will move to its regular time slot at 10pm EST from 10 October onward.
The season 2 finale ended on two major cliffhangers — Toby Curtis proposed to Happy Quinn, only to find out that she is already married. Furthermore, Walter White, who spent the entire season being confused about his feelings for Paige Dineen, realised that he loves her and heads out to win her back from Tim Armstrong.
The season 3 premiere episode will answer some obvious questions: Can Walter win Paige back from Tim? Who is Happy's husband?
Previously, actor Eddie Kaye Thomas, who plays Toby, teased big ramifications for Toby and Happy in season 3 episode 1.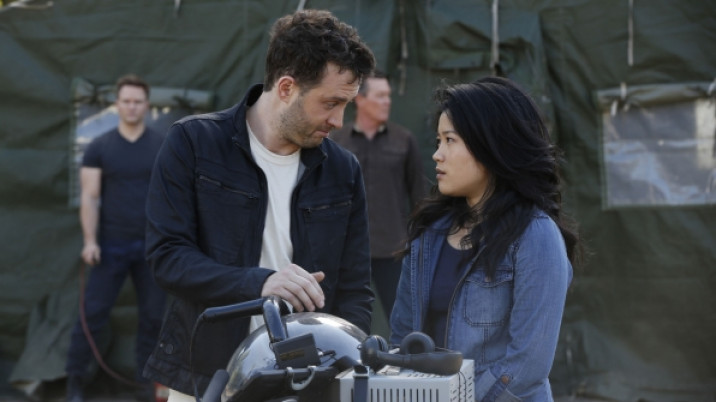 He told Entertainment Weekly, "I'm excited for the season 3 premiere to see how the [fallout] of the season finale is played out among the team because what happened with Toby and Happy has big ramifications.
"After the very last scene of the finale, as much as that has answered things, it's going to make the season premiere that much more exciting," he teased.
Speaking about the show's couples Walter-Paige, and Happy-Toby, the actor shared, "So many questions and wants and needs for Walter and Paige, and Happy and Toby are being opened up; it's really exciting. I'm so grateful that we have clever writers who are listening to the fans and staying true to their original vision for the show."
Executive producer Nick Santora previously said that Scorpion season 3 will also feature a big arc for Walter and Paige. Santora told TV Line, "It tees up more 'Waige'. That's as far as we can go. We can't promise that in the first episode of next season, they're going to be holding hands and running through a valley of golden flowers together. But at the same time, the Waige relationship will always be there."
Watch the season 3 premiere of Scorpion this October to find out if your favourite couple, Toby-Happy and Walter-Paige will have a smooth ride ahead.