Scorpion season 2 finale featured a proposal, heartbreak and a love confession. In episode 24, the Scorpion team saved Dr Toby Curtis from a certain death trap set up by Mark Collins. However, the major revelations came at the very end of the hour.
After being rescued, Toby proposed to Happy Quinn but she turned him down and revealed that she is already married to someone else. Also, Walter O'Brien finally confessed to Toby that he loves Paige Dineen and goes after her to win her back from Tim Armstrong (played by Scott Porter). The season ended with several cliffhanger questions — Who is Happy married to? Will Walter confess his love to Paige?
Executive producers Nick Wootton and Nick Santora spoke to TVLine about the season 2 finale and how it will affect the characters in season 3. Speaking about Toby and Happy's heartbreaker, Santora said: "We knew at the beginning of the season that we wanted him to propose. We were talking about that last summer and we knew we wanted to arc it out to the end of the season. But we didn't know that Happy was going to be married to somebody else until around January."
According to Wootton, season 3 will feature many emotional backstories and possibly reveal who Happy is married to. "They're [Happy and Toby] going to be affected very much so. This is certainly going to reverberate through the entire team. It's our kicking-off point for the next season, for the emotional stories. How is this going to play out? Who is she married to? How did that happen? Where is that person? All of these things are going to be fodder for next season."
Santora, however, added that Happy and Tody will have a "hard" time ahead. He said: "I wouldn't expect [Toby and Happy] to be struck by lightning in any upcoming episodes, ending their relationship. [Laughs] Eventually, these characters and these relationships are all going to get where they need to be. It's just going to be hard."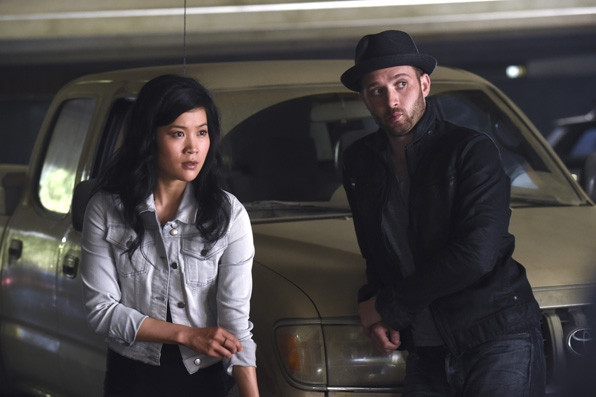 Scorpion season 3 will also feature a big arc for Walter and Paige but Santora warned fans not to expect them holding hands in the opening episodes. "It tees up more Waige. That's as far as we can go. We can't promise that in the first episode of next season, they're going to be holding hands and running through a valley of golden flowers together. But at the same time, the Waige relationship will always be there."
Wootton teased a slow pace of Walter and Paige's relationship, "From what I've been seeing, it's the pace of the Walter/Paige relationship [that the fans respond to]. They want more, more, more, which [speaks to] an obvious chemistry between these two actors and characters."
"He doesn't fail anywhere except in his personal life. Certainly, there are fans who want more faster but as that proceeds down a very logical and, unfortunately for some, methodical path, the payoff will be even more sweet," he added.
Will Walter confess his love for Paige? Will Happy and Toby make their relationship work? Although no premiere date have been announced yet, Scorpion season 3 will return in September 2016.