Scorpion season 2 will go on a brief one-week hiatus and return with all-new episodes on 22 February at 9pm EST on CBS Network. In episode 17 titled Adaptation, Walter O'Brien gives Toby Curtis and Happy Quinn an ultimatum.
The official synopsis reads as follows:
In the previous episode on 8 February (Monday), the Scorpion team helped avert a major catastrophe after Los Angeles was hit by a powerful earthquake. Walter O'Brien and his team rushed to seal a leaking gas line, which threatening to blow up the city.
The episode also featured a moment that all fans had been waiting for — Toby and Happy are finally together. In an interview with Entertainment Weekly, actors Eddie Kaye Thomas and Jadyn Wong talked about Toby and Happy's big moment and what is next for them.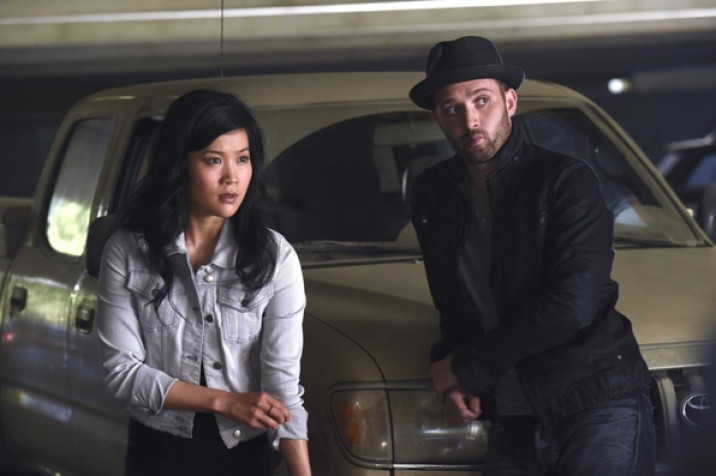 Thomas, who plays Toby, believes there is a good chance that things will work out. "I think they've taken such a big leap forward with trying it. Them being a couple, it might be a small step for normal people, but these are two characters with such a low emotional quotient."
"It's a huge thing to put themselves out there, be vulnerable and give themselves the possibility of getting hurt. I'm not saying there's no turning back; it could definitely fall apart but now that they've made this leap, they have a much better chance," he added.
According to Wong, who plays Happy, this relationship will bring her out of her comfort zone. Wong said: "I think it can go two ways, and that's what I'm interested in exploring. There's a likelihood of him opening up a softer side. With anyone in a relationship, there's different sides that come out, so I'm interested in what's going to come out of that. But I also think her being out of her comfort zone, it's also going to bring up, perhaps, old defenses and patterns that come up, because the fear is overwhelming at this point as well."
According to the synopsis for Scorpion season 2 episode 17, Walter will not be very forthcoming about Toby and Happy's relationship. Wong, talking about the team's reaction to their relationship, revealed: "Paige and Sylvester (Ari Stidham), they're cool with it. I feel like they're the team members who are all for this human connection and joy thing. I feel like that's more of their M.O., if that makes sense. The issue, challenge, or the opposing person would probably be Walter."