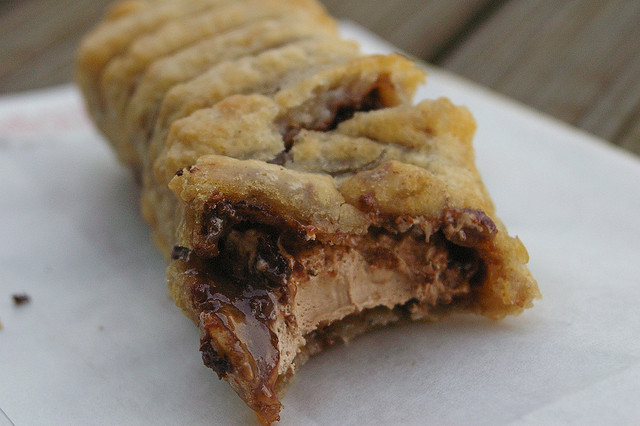 Aberdeenshire Council have requested the sign promoting the snack food is taken down above chip shop on grounds of taste.
Carron's Fish Bar claims to be the first to serve the Scottish speciality in 1992 when children asked for a Mars Bar to be deep fried.
Shop owner Lorraine Watson rejected the council's demand.
She told Sky News: "I would never consider it. The shop's status is iconic for the town and it's not doing anyone any harm - 99.9% of people buying the deep-fried Mars Bars are tourists who come from around the world. Why wouldn't you advertise it?
"At this time of year, we sell 150 - 200 deep-fried Mars Bars a week, so it's not a thing that's going away."
A spokesman for Aberdeenshire Council said: "Together with a range of community organisations we have been looking at ways to improve the look of Stonehaven for the benefit of residents, businesses and visitors.
"An action plan has been created in conjunction with the Stonehaven Town Partnership, Community Council, Stonehaven Business Association and the Horizon Group.
"As part of the action plan we have asked some owners in the area to consider making alterations to their properties. This included asking the owners of The Carron Fish Bar to consider removing their banner.
"We do not wish to prevent the owners from promoting their business and we would be happy to have discussions with them regarding the banner."
The council have now backed down from their request. A council spokeswoman said that it was merely a request to take down the banner and after hearing the chip shop owners objections, would not be taking the matter any further.
In 1995 the Daily Record first reported on "Scotland's craziest takeaway" being served at the Stonehaven chippy, previously named The Haven.
"Sweet-toothed youngsters are ordering their favourite choc bars deep-fried in batter," the Record said.
By 2004, the reputation of the snack had travelled across the world and it was mentioned on the Jay Leno Show in the US.
Mars was keen to distance itself from such culinary embellishments."'We have recently reduced the saturated fat level in our Mars Bar recipe. Deep-frying our Mars Bar product, of course, counters this significantly." A deep-fried Mars Bar has around 1,200 calories.