Scotland's "happiest dog" wagged his tail so hard and fast it had to be amputated. Poor Buster, who is being profiled as part of the Scottish SPCA's Staffie Awareness Week, spent two years in a rescue centre but has now found his forever home.
Buster's exuberant personality meant he wagged his tail so much he sustained repeated injuries but thankfully the amputation did not dampen his spirits. He was known during his time in rescue for his boyish good looks and cheeky personality and was dubbed the happiest dog in Scotland by his rescue charity.
Diane Aitchison, centre manager of the Scottish SPCA's Edinburgh and Lothians Animal Rescue and Rehoming Centre where Buster spent two long years, said: "When Buster was with us he won over all the staff at the centre with his boyish good looks, cheeky personality and his love of cuddles.
"He earned his title of the happiest dog in Scotland after his tail had to be amputated following repeated injuries from how hard and fast he'd wag it! That certainly hasn't stopped his exuberant personality though.
"After two years with us here at the centre, it's great that he has finally found his forever home where he has unlimited bum scratching and a big sofa to snuggle up on."
Michelle Lennox and her partner took in Buster in January 2017, and she reported that the popular dog was very well behaved but still a huge fan of getting lots of attention. She said: "We took Buster on his first holiday to Northern Ireland; he loved the attention from strangers and won them over with the paw trick the staff at the centre had taught him.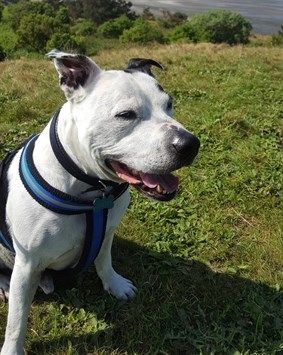 "He can be a bit wary of some dogs, but he has made some friends in the neighbourhood – he's a bit of a ladies man! He also loves children and his post woman Tracey is his favourite visitor. People say he's lucky we found him but I think we're the lucky ones."
Animal welfare charity Scottish SCPA profiled Buster to start its annual Staffie Awareness Week, running from 13 to 19 November, which aims to encourage people to rehome one of the many "gentle and affectionate" Staffordshire bull terriers waiting in nine of their centres.
Staffies and staffie crosses were one of the most popular breeds to be rehomed by the Scottish SCPA in 2016, making up 20% of their successful rehomings, despite the breed often being misunderstood as being particularly aggressive.
Mike Flynn, chief superintendent of the Scottish SCPA, said: "Staffies are one of our most popular dogs and it's clear to see why, they are friendly, loyal and affectionate dogs, they are real people dogs and thrive on human companionship."
The RSPCA's advice on staffies says: "Staffordshire bull terrier puppies have suffered a great deal from overbreeding and bad press in recent years and sadly, many have ended up in our care through irresponsible ownership. However, Staffies with the right training can make wonderful pets and many of the Staffies in our care are well behaved, affectionate and playful."