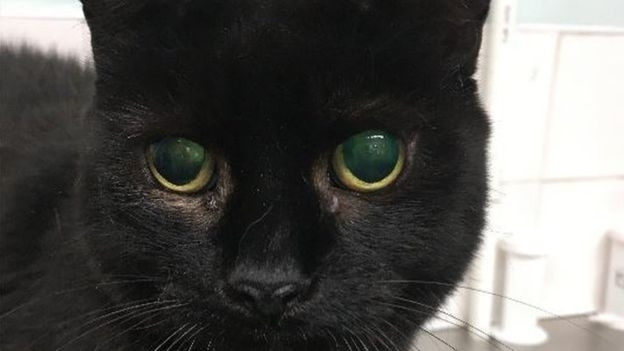 The infamous Croydon Cat Killer, who is believed to have killed hundreds of animals, could move on to attacking humans next, a police detective has warned.
The killer is believed to have begun his attacks in Croydon, south London, in 2015 and has since harmed and often decapitated and chopped off limbs of more than 360 cats, rabbits and foxes around England.
Detective Sergeant Andy Collin, with the Met's Operation Takahe which is investigating the crimes, told Sky News that although there is no direct risk to people, the killings could escalate. He shared a particular concern for women and girls.
He said: "There is a known link between serial killers and harming animals when you look into their dark history.
"If you look at offending patterns, the assumption is this killer is getting some form of gratification. The concern is they will cease getting that gratification and escalate the attacks to humans, specifically vulnerable women and girls."
Doctor Simon Harding, criminal psychologist, told Sky News he saw some "disturbing features" in this case. He said: "Family pets are nurtured pets that we consider to be part of our family, almost like children, and this is somebody who's disassociating from society and perhaps rejecting those values, very vengeful, lacking emotion, lacking empathy."
Harding suggested the culprit may have had a troubled family background due to neglectful parenting, child cruelty or alcoholic parents. He also confirmed the police theory that the escalation of animal attacks to humans would fit the pattern of this type of offending behaviour.
The particular details of the cat killings are "very worrying," Harding added, referring to the pattern of removing the animals' heads and limbs, sometimes skinning them, and often leaving them somewhere the owner will find the body parts.
South Norwood Animal Rescue and Liberty (Snarl) has been assisting police and said attacks have now taken place in Greater London, Surrey, Hampshire, Kent, Berkshire, Sussex, Manchester, West Midlands, Oxfordshire, Hertfordshire, Northamptonshire and Buckinghamshire. The group said this week: "Someone out there holds the key to this."
In August, a description of the suspected killer was released after Surrey Police spoke to witnesses of three killings. The man was described as white, aged in his 40s, with short brown hair, between 5'8" and 5'11" tall, of average build, and possibly with facial acne scarring. It is believed he was dressed in dark clothing, sometimes carrying a torch or wearing a headlamp, and has been seen trying to coax cats with a toy, food, and "kissing noises".
There is a £10,000 reward on offer for any information leading to the arrest and conviction of anyone responsible. If you have any information, contact the Operation Takahe team on 0208 6490216.