BAE Systems has warned that an independent Scotland would lead to complications over its Ministry of Defence contract.
According to the defence giant's strategic review, the group's boss Ian King said "in September 2014, Scotland will hold an independence referendum. The decision on independence from the UK is a matter for the people of Scotland."
"However, BAE Systems has significant interests and employees in Scotland, and it is clear that continued union offers greater certainty and stability for our business.
"In the event that Scotland voted to become independent, we would need to discuss the way forward with the Ministry of Defence and UK government, and work with them to deliver the best solution in those circumstances."
BAE has 30,000 staff across Britain and market capitalisation of £13.2bn.
The Scots will be asked the straight "yes/no" question: "Should Scotland be an independent country?" on 18 September this year.
Hammond's Statement
BAE's statement supports comments made by Defence Secretary Philip Hammond last week.
He said that Britain would only buy BAE warships if the were built within the country's borders.
"We are clear BAE made the decision it wants to concentrate surface shipbuilding on the Clyde for commercial reasons and that is a decision the company has made and not the Ministry of Defence," said Hammond.
"But we are also clear that the Ministry of Defence has not for many, many years, except during the Second World War, bought warships that are built outside the UK and we would expect our warships to continue to be built in the UK.
"So clearly that would be an issue in the unlikely event Scotland voted for independence."
Businesses Back Scotland Staying in the UK
At the end of February, a poll revealed that a majority of Britain's biggest business leaders are against Scotland exiting the UK as independence would have a negative impact on companies.
According to a survey by recruitment firm Korn Ferry, 65% of the 32 FTSE100 companies polled said it would be "particularly bad for the Scots, not good for the English and would dilute the UK's economic influence".
The poll follows a survey by the British Retail Consortium that showed that 33 retail chairmen were "consistently negative" about Scottish independence.
In the run up to the referendum, a number of businesses and banks have voiced concern or plans about Scotland potentially breaking away from the UK.
At the beginning of February, BP's chief executive Bob Dudley warned that major companies may divest billions in future investment away from Scotland because of the uncertainties the country's independence would mean for business.
Dudley said that "all businesses have a concern" about the in/out referendum.
Alliance Trust also revealed in its latest set of results that it has started to set up a raft of England-based companies in a bid to protect itself against the possibility of Scottish independence.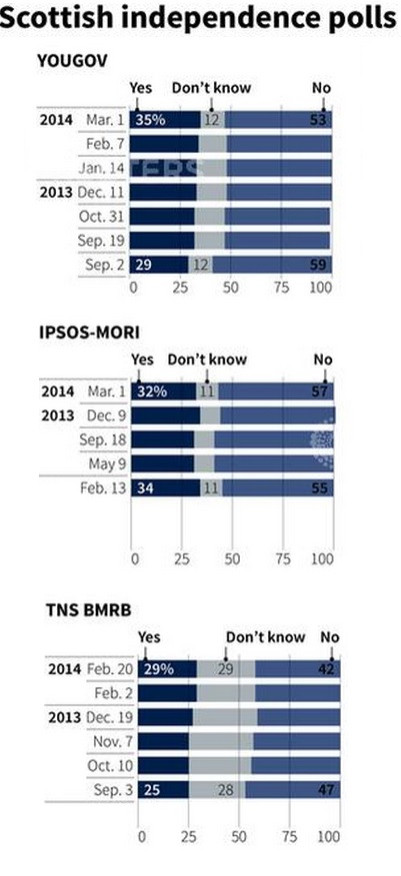 The Dundee-based investment manager's chief executive officer said in its results statement that it was necessary to start establishing non-Scottish companies as it hedges its bets against Scotland breaking the 307-union with England.
"The referendum in September is creating uncertainty for our customers and our business, which we have a responsibility to address," said Katherine Garrett-Cox.
Scotland's financial services accounts for about 150,000 jobs.
Prior to Alliance Trust, insurance firm Standard Life said that it may quit its Scottish home if the nation breaks from the United Kingdom in its referendum on independence.
"We have been based in Scotland for 189 years and we are very proud of our heritage. Scotland has been a good place from which to run our business and to compete around the world," said Gerry Grimstone, chairman of Standard Life, in the Edinburgh-based insurer's annual report for 2013.
"We very much hope that this can continue. But if anything were to threaten this, we will take whatever action we consider necessary - including transferring parts of our operations from Scotland - in order to ensure continuity and to protect the interests of our stakeholders.
"We will continue to seek further clarity from politicians on both sides of the debate, so that we can reach an informed view on what constitutional change may mean for our customers, our business and our shareholders."
Britain's business secretary Vince Cable also said that it is likely that the Royal Bank of Scotland's headquarters will move to London permanently, if Scots vote for independence.