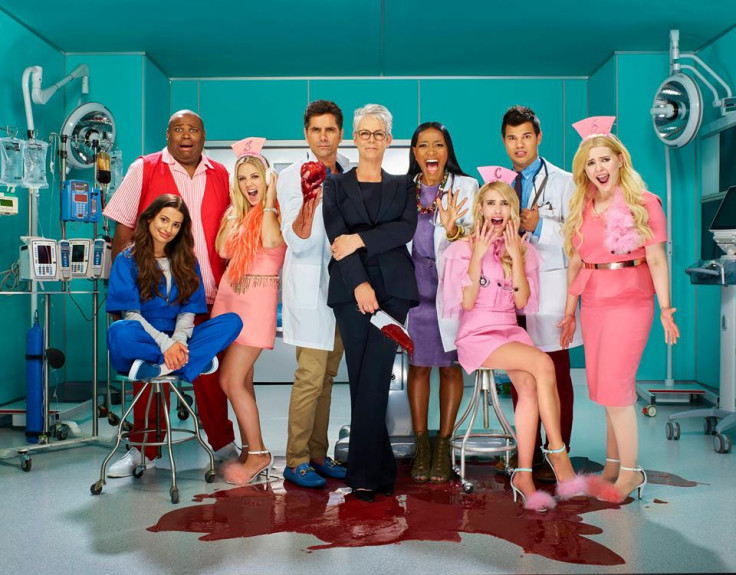 After a month long hiatus, Scream Queens season 2 returns with episode 5 titled Chanel Pour Homme-icide. The episode will focus on the aftermath of the deadly Halloween event which killed Agent Denise.
According to the synopsis, Dean Munsch will seek the help of the authorities in order to curb the serial killings executed by a mystery killer clad in a green devil costume, who leaves a trail of green slime near the victims.
Click here to watch episode 5 live online on the official website of the network. The fifth episode will air on Tuesday (15 November) on Fox at 9pm EST.
In the previous episode, Munsch takes Hester's advice seriously and plans a Halloween party in order to lure the killer. Little does she know that letting Hester loose will only add to her agony. Soon the party turns into a chaos as a group of patients arrives at C.U.R.E with severe health issues.
While Dr. Cassidy and Brock are busy curing the patients with the help of Chanel and Zayday, Denise and Chanel #5 were attacked by two mask-clad killers. The chaos in the hospital helps the Green Meanie to find its next prey as it was successful in killing Denise by electrocuting her. However, Chanel #5's fate remains unknown. Hester was revealed as the other mask-clad villain who was terrorising Chanel's minion.
The official synopsis of the upcoming episode reads:
After the terrifying events of Halloween, Dean Munsch is forced to notify the authorities of the murders occurring at the C.U.R.E. Institute, which surprisingly leads to an influx of new patients. Fed-up with doing dirty work, Chanel concocts a plan to put the new patients to use by recruiting them to join the Chanels. Meanwhile, Zayday and Chanel #5 pay a visit to someone with ties to the hospital's past, and a new patient's ailment causes the hospital staff to go a little mad.