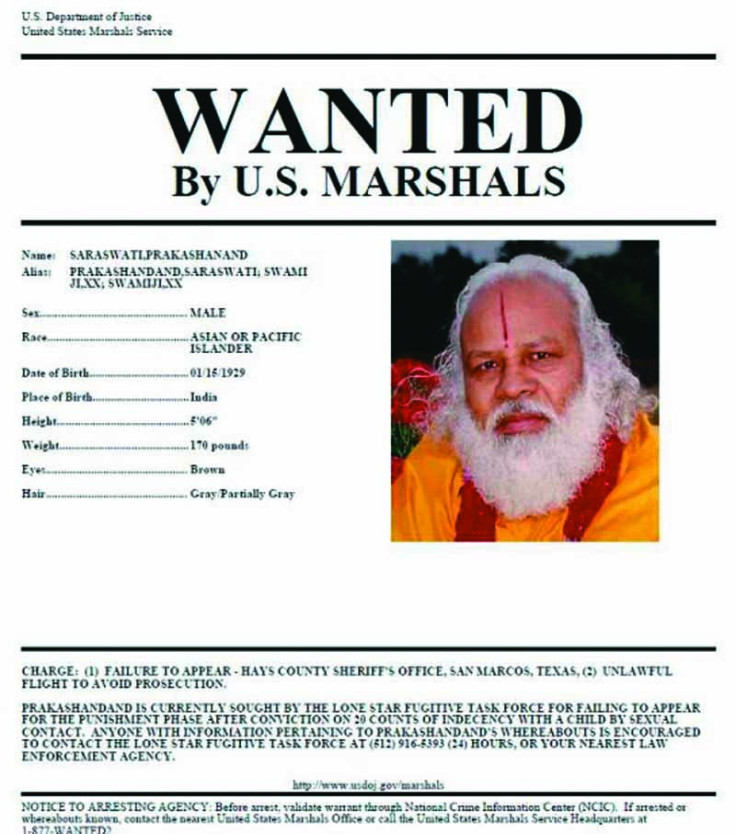 Authorities may be no closer to hunting down a "rogue" Indian guru who abused children at an ashram in Texas, but two of the girls who suffered at his hands still hope that Prakashanand Saraswati will be brought to justice.
After enduring much torment, and amid a lack of support from their parents, three American girls managed to get a court to sentence Saraswati to 14 years of imprisonment.
But the man escaped, probably to India from where he had come.
The hunt has continued for four years now and the Tonnessen sisters hope justice will prevail.
"He's still out there and he's still abusing people," Vesla Tonnessen told CNN's The Hunt. "I don't think that will stop until he's imprisoned."
CNN traces the story back to the 90s when the girls and their parents lived on the 200-acre wild land at Barsana Dham, the ashram of the International Society for Divine Love in Austin.
In pursuit of enlightenment under the guidance of Saraswati, the girls' parents asked them to see him as "the god on earth".
But Saraswati was more of an Indian version of Santa Claus for the girls. Affectionate and cuddly with hugs and kisses he was like a grandpa.
However, once the girls turned of age things changed. Hugs turned "inappropriate". A call to bed, a hand slid under and other requests, short of an intercourse, petrified the girls.
The girls were even more terrified when their mother refused to accept their version and preferred to keep faith in the spiritual leader.
The girls put up with the visitations until they grew up and could leave at 18.
In 2000, when they heard that Saraswati's guru, Kripalu, had been accused of rape in India and Trinidad the girls decided to act.
In 2008, they took their allegations to the Hays County, Texas, authorities and an indictment was handed against Saraswati.
Surprisingly, the man's devotees including the girls' parents rallied around him.
Vesla's sister, Kate Tonnessen, told CNN: "It feels like potentially what it feels like [when] a parent dies. But it wasn't death that took them away. It was their own attachment to their guru that allowed them to override their love for me and my sister."
Saraswati was released pending trial on a $1m (£645,000) bond paid for by a member of the ashram.
After delaying proceedings for three years, the case finally went to trial in 2011 and on March 4, Saraswati was convicted of 20 counts of indecent behaviour with a minor.
The judge permitted Saraswati to return to Barsana Dham for the weekend then, with punishment to be decided the following Monday.
However, Saraswati did not show up on that Monday. He had fled the country and in his absence, the judge sentenced him to 14 years in prison for each of the 20 counts.
The US Marshals Service now believe that Saraswati is living in India between New Delhi and the northern town of Mussoorie.
If you've seen Prakashanand Saraswati, please call 1-866-THE-HUNT or go online at CNN.com/TheHunt and report him to the authorities.