A secret arsenal of stockpiled machine guns, smoke grenades, deactivated weapons and ammunition were discovered in a terrace home in Greater Manchester.
The weapons included an AR-15 machine gun infamous for being used in multiple mass shootings in the US, including the Stoneman Douglas High School shooting on 14 February that left 17 dead.
Christopher Cook stored the weapons at his mid-terrace home on Newton Hall Road, Hyde, Tameside, before police were tipped off that he was ordering equipment that could convert deactivated guns to fire bullets.
The 58-year-old pleaded guilty to five counts of possession of prohibited firearms, one count of possession of a component part of a firearm, and four counts of possession of ammunition without a certificate.
He was also found guilty of possession of items capable of the use in the conversion of imitation firearms.
The former British Gas engineer of 40 years has been jailed for nine years at Manchester Crown Court after a judge told him it would have been "catastrophic" if the guns fell into the wrong hands.
On 19 June 2017 a live, semi-automatic AR-15 was found in Cook's bedroom that the court was told he had bought legally in the 1980s when he was a licensed firearms owner, reported the Manchester Evening News.
In 1987 following the Hungerford Massacre, weapons like these were banned but Cook kept his and his firearms licence lapsed in 2000.
Cook was found in possession of 16 other deactivated weapons which had the appearance of AR-15 or M-16 machine guns, plus 11 Colt automatic pistols, it was reported.
The defendant also over 700 rounds of ammunition for the AR-15 and Colt weapons including tracer bullets and hollow point bullets, which explode on impact causing even more serious injuries.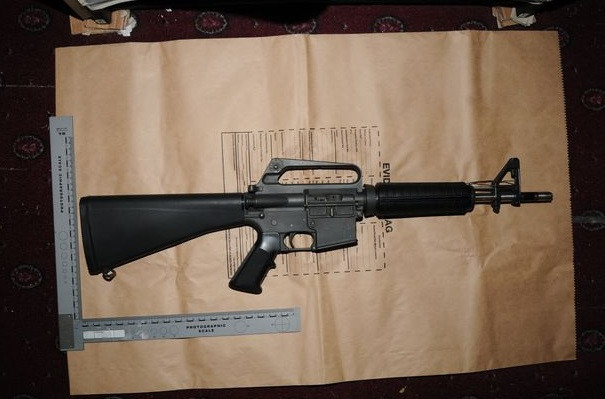 Cook was caught after he ordered products from an American firearms retailer that could be used to convert imitation firearms into live weapons.
Judge Martin Walsh said according to the Manchester Evening News: "If these items had got into the hands of criminals, then the consequences for the public interest could have been catastrophic.
"It's quite clear that these items were retained by you in the clear knowledge that you were not entitled to lawfully possess them."
The court was told that there was no evidence that the any of the guns were ever used by Cook and Howard Bernstein, defending Cook, said that there was no evidence any were sold to criminals.