A generous man, who is yet to be identified, performed a kind Christmas act by secretly inserting envelopes into customers' shopping baskets that contained a Christmas message and a £50 note.
A report in The Telegraph said it is understood at least 12 people, including a retired couple, were the fortunate recipients of the Good Samaritan in the days leading up to Christmas.
The kind-hearted man who is thought to be aged in his 30s or 40s handed out his Christmas gifts to strangers as he walked through the aisles of a Tesco store in Sampford Peverell.
Many shocked customers initially thought the act of kindness was part of an in-store promotion but most locals are now convinced it was a genuine attempt of generosity.
Tesco officials are now checking internal CCTV footage in an effort to identify the man.
According to locals who received the envelope, it came with a message which read: "Happy Christmas. I have recently been fortunate enough to have come into quite a lot of money - more than I need for myself and my family.
"So I thought that I would share some of it with other people - the £50 enclosed is for you. I hope this enables you to have a little extra cheer this Christmas.
"You do not have to do anything other than spend the money - and it is real, there is no trick, no hidden cameras or catch. Just have a Happy Christmas."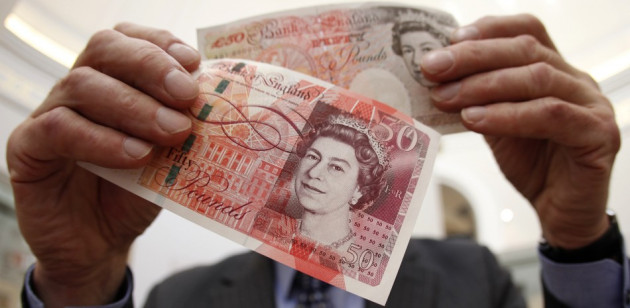 The supermarket's manager, Luke Davies, said the grey-haired mystery man had made quite an impression.
"Several customers have mentioned him," he told the Daily Mail.
"I don't know why he would do it, but if it's what it appears to be it's a very generous thing to do."
The elderly couple, who did not want to be identified, thought they were the victims of a practical joke.
They even took their £50 note to their bank to get authenticated.
The couple said the man moved quickly and consequently did not have time to stop and ask him what was in the envelope.
"He just smiled, wished us a merry Christmas and was on his way," said the husband of the couple.
"I am sure he was giving out other envelopes and it's such an incredible gesture. The envelope was blank and we nearly threw it away, but I am glad we didn't.
"You don't really expect supermarket shopping in the run-up to Christmas to be such a wonderful experience."
His wife said: "We are hugely grateful to this man for such a lovely gift, it's not just about the money, it just made us feel that there are people out there who are genuinely good and selfless, and realise there is more to life than money."
The couple spent the money on their groceries and said it made a real difference to their festive celebrations.
Do you know who the mystery man is? If so, call the IBTimes UK newsdesk on 020 7718 8595.