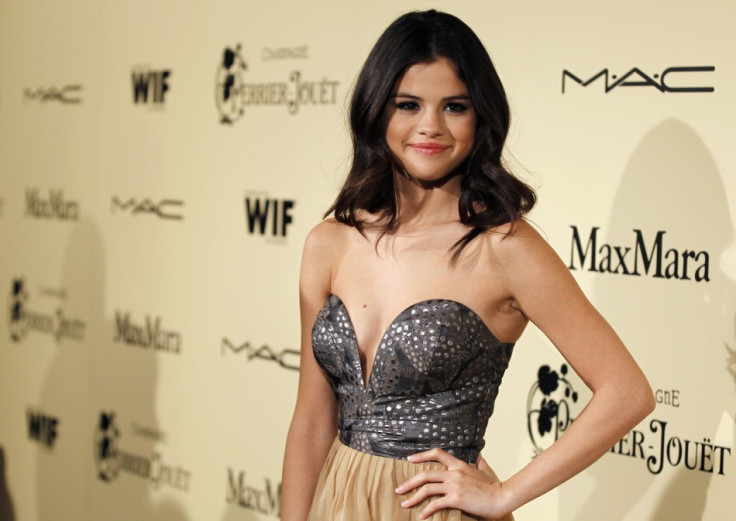 She is just in her teens but continues to impress with charm and style. Singer Selena Gomez, who was at Macy's Herald Square in New York City for her perfume launch, looked classy and elegant in a white outfit.
The singer wore a white Versace bandeau top and high-waisted shorts with an ocean-themed print and a Vanessa Bruno blazer, proudly showing off a toned stomach and long legs. The 19 year old kept her accessories simple with big ring earrings and Giuseppe Zanotti heels.
The actress posed for the shutterbugs with a pretty purple bottle with lips adorning the lid of her self-titled fragrance at the Macy's store. She also tweeted an image of two boys standing with T-shirts which read: "Forget Justin and Marry Me." The Disney star also posted a picture of fans sleeping on 34th Street, ahead of the fragrance launch.
The Wizards of Waverly Place star wooed everyone when she posed for a sultry shoot for her fragrance - in a strapless black gown shot dipping into a tank full of water. Keeping her make-up simple and elegant - smoky eyes and shiny lips - she slicked back her long dark hair. She later made waves in the pink water, which looked even brighter against the blue backdrop. Talking about the fragrance shoot, she felt it was "simple and pretty".
"I wanted it to be tall so it stands out," she told Us magazine, adding, "The design of the bottle is almost like a gown so it represents me on the carpet. The lips are fun...it makes it more youthful and you can play with it."
Gomez is now in the league of boyfriend Justin Bieber and close friend, Taylor Swift, in introducing her own trademark scent. She gave credit to fans for giving her advice and suggestions.
"They're the ones wearing it, so I trust them -- their opinions and everything that they've done for me," she said.