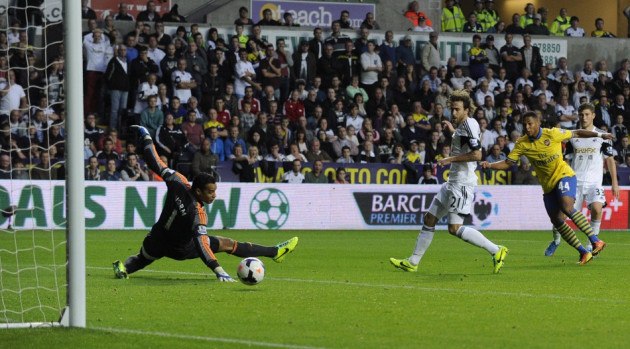 Arsenal manager Arsene Wenger has hailed Serge Gnabry's impressive character after the German-born winger marked his second Premier League start with his first professional goal for the Gunners.
Gnabry replaced Theo Walcott for the win over Stoke last weekend and with the England international out until November, he was called upon again for the visit to Swansea City.
And following a tight first half, Gnabry opened the deadlock with a fine finish from Aaron Ramsey's pass before the Welshman himself scored the decisive goal as the north Londoners secured a crucial 2-1 win to return to the Premier League summit.
Ramsey, who netted his eighth goal of the season, was forced to share the headlines with Gnabry, who was part of Arsenal's Nextgen side last season, and Wenger has endorsed the 18 year old's mental strength.
"He is surprising," said Wenger. "He has the talent, but he has the personality on the pitch as well.
"He doesn't look timid, he looks to play with belief and, of course, talent. Unfortunately he is another player for Germany, he's not English.
"He was one-year-old when I came to Arsenal, I can't believe it. Now I have some players in my squad who were not born when I arrived at Arsenal.
"The two players who scored (Gnabry and Aaron Ramsey) have a combined age of 40."
With Walcott not expected to return until November after abdominal surgery, Gnabry has the chance to stake a claim for a regular place in the Arsenal first team with Alex Oxlade-Chamberlain also out.
But despite a lack of options, which also sees the likes of Lukas Podolski and Abou Diaby out injury, Arsenal are top of the Premier League after six games and have been installed as third favourites for the title.
Much of their impressive form is owed to the form of Ramsey, who netted his fourth league goal on his return to south Wales and Wenger has praised the midfielder whose career was on the line three years ago after suffering a broken leg against Stoke.
"First of all let's not forget that his career was disturbed by a big injury and you need patience," Wenger added. "After that people became a bit impatient with him and put pressure on him when he had some bad games.
"I believe it was a turning point for him when his game was questioned because it's always an important period in the life of a football player, can you deal with that, come back to basics and practice even harder? Or does he feel sorry for himself and give up.
"That's when I saw him responding in the way he did. I always thought we would come back and that's why I kept faith in him."