Serving soldiers have been warned they face dismissal if they are found to be taking part in activities organised by the English Defence League (EDL).
The far-right group has staged a series of rallies and demonstrations following the murder of Drummer Lee Rigby in Woolwich, south-east London.
The army has now warned all serving soldiers they must not engage in any political behaviour. Recently, photographs emerged of what appear to be masked British soldiers posing with weapons in front of an EDL flag.
Defence minister Mark Francois, in a written Parliamentary answer, said: "In the wake of the appalling murder of Drummer Rigby, General Sir David Richards, Chief of the Defence Staff, wrote to all ranks on May 23 both to express his sympathy for Drummer Rigby's family and to urge all service personnel not to get drawn into the politics of this incident," Mr Francois said.
"General Richards was clear that the UK Armed Forces fight to protect people of every creed.
"On May 30, Sir Peter Wall, Chief of the General Staff, wrote to all Army Commanders and Commanding Officers to reiterate that Queen's Regulations forbid Regular Service personnel in uniform from taking an active part in the affairs of any political organisation party or movement, or participating in political marches or demonstrations.
"All Service personnel are expected to abide by the values and standards of the British Armed Forces, in all they do.
"All those who are found to fall short of these high standards or have committed an offence under the Armed Forces Act are dealt with administratively or through the disciplinary process.
"Ultimately, such action may result in dismissal."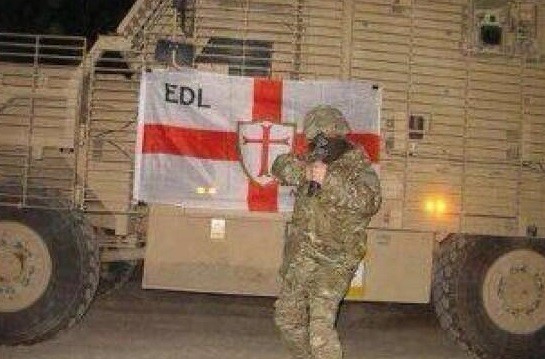 The warning came after the EDL's leader, Tommy Robinson, tweeted on 2 June "Armed Forces support EDL, EDL support Armed Forces" accompanied with a photo of what appears to be a serving soldier against a backdrop of EDL propaganda.
Robinson had earlier called for "feet on the street" and organised a demonstration in Woolwich just hours after Rigby was killed near the Royal Artillery Barracks, on his way back from work at the Tower of London.
Commanding officers of Rigby's regiment, 2nd Battalion The Royal Regiment of Fusiliers, have also urged its soldiers not to take part in any far-right demonstrations.
They described the marches as an excuse to exploit his death for "a range of self-serving and unhelpful reasons".
Regimental secretary Brig Ian Liles, of Fusiliers Association North East, said: "It is wrong and disgraceful that the death of one of our own should be exploited in this manner and that dishonour, by wrongful association, is brought on to the regiment.
"The reputation of the army will be damaged if individuals with visible connections to the army participate in demonstrations in support of Dmr Rigby that are associated with extremist organisations."