Tommy Robinson, leader of the English Defence League, has called for supporters to go to Woolwich after a man was believed to have been beheaded there by apparent Islamic terrorists.
Robinson sent a message to his EDL supporters through his Twitter account, which is run by his second in command.
It said: "Message from Tommy - Feet on the streets anyone want to go to Woolwich contact him/me, he will be there around 9pm."
The controversial anti-Muslim leader made a series of tweets regarding the attack, in which a man, believed to be a soldier, was killed with a meat cleaver and a machete.
"There has to be a reaction by the British public to this attack on one of our brave young soldiers.
"When the f**k is this country and its people going to take the threat political Islam poses seriously?"
The Muslim Council of Britain condemned the attack. It said the murder was horrific and urged the police to "calm tensions", saying that violence had nothing to do with the tenets of Islam.
"Eyewitnesses suggest that the murderers made Islamic slogans during their heinous action and were thus motivated by their Islamic faith," the council said.
"This is a truly barbaric act that has no basis in Islam and we condemn this unreservedly. Our thoughts are with the victim and his family.
"We understand the victim is a serving member of the armed forces. Muslims have long served in this country's armed forces, proudly and with honour. This attack on a member of the armed forces is dishonourable and no cause justifies this murder.
"This action will no doubt heighten tensions on the streets of the United Kingdom. We call on all our communities, Muslim and non-Muslim, to come together in solidarity to ensure the forces of hatred do not prevail.
"It is important we allow our police authorities to do their job without speculation. We also urge the utmost vigilance and ask the police authorities to calm tensions."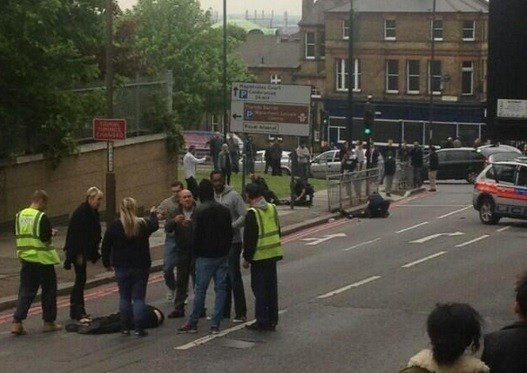 Following the attack in John Wilson Street, Met Police commander Simon Letchford said there would be a continued police presence in Woolwich all evening.
"That presence will continue as long as is needed. I am asking people to remain calm and avoid unnecessary speculation," he said.
A meeting of Cobra, the government's emergency committee, is taking place in Downing Street, suggesting that the incident was a terrorist attack, although there has been no official confirmation of this.
BBC reporter Nick Robinson said the two attackers, who are being treated for gunshot wounds in hospital, filmed the attack.
He claimed they shouted "Allah Akhbar [God is great]" as they attacked their victim.
ITV has posted images of a man with bloodied hands holding a knife and a meat cleaver.
In the footage, he is shown speaking to camera and making political statements. "We swear by almighty Allah we will never stop fighting you," he said.
He also spoke of the need to remove the UK government and apologised to any women who witnessed the attack. It is not known if the man in the film was one of the attackers.