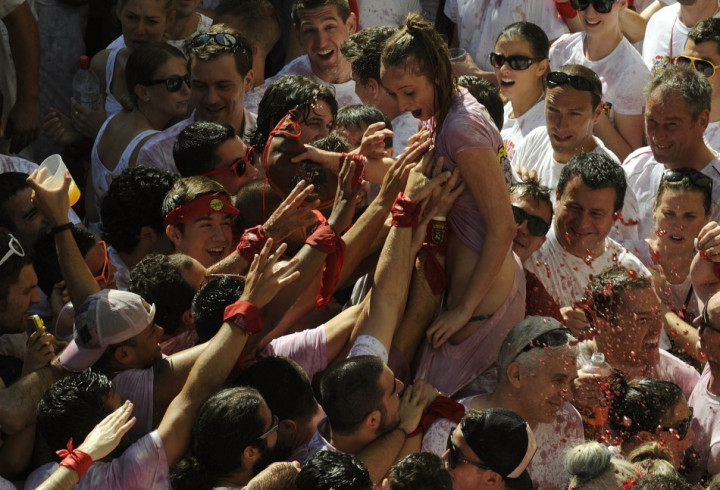 Spain's bull-running festival is becoming a no-go zone for women as the number of sex assaults on the packed streets of Pamplona is increasing each year.
A women's group has compared the San Fermin festival to the political protests in Tahrir Square, Cairo, where rape and sexual violence have become a severe risk for women during the demonstrations.
The Federation of Peñas, a bullfighters' support organisation, has demanded that the city clamp down on a "notable rise" in attacks on women, according to a Times report.
Marisa Spoleto, president of the Women's Foundation, said in her blog: "There are sex assaults during San Fermin. Being there, drinking, taking part in this collective hysteria is not an invitation to be fondled.
"A television journalist who was sent to the San Fermin festival was pushed then kissed on the mouth by a volunteer who was passing and then [she] was accused of provocation."
Human Rights Watch has condemned an "epidemic of rape" in and around Tahrir Square during the recent protests, documenting almost 100 rapes in four days from 30 June.
No figures are available for this year's Pamplona Bull Run, although Spanish police said last year 64 people were detained for various offences including sexual assaults. A total of 640 complaints were made for all crimes.
Women's groups have accused San Fermin's municipality of covering up the issue of sex attacks.
In 2011, a 22-year-old woman filed a police complaint for sexual assault in a public toilet by a man she had met at a bar in Pamplona, according to women's group Andrea and Lunes Lilas.
A 16-year-old girl was also raped during the weekend, they said.
"We have for years endured seeing how this festival is sold with the phrase: 'At San Fermin anything goes'," said Zurine Altable, spokeswoman for Pamplona's Gora Irunea collective.
"At San Fermin, as at any other festival, not everything is allowed. When a woman says 'no' she means 'no'," she told the Times of Malta.
"We demand real information about the sexual assaults that take place at San Fermin. This is a reality that everyone knows and which Pamplona city hall and other institutions try to make invisible."
"Acts like these need to be made public," said Pamplona alderman Itziar Gomez. "You cannot hide these things; the fiesta has both a white and a black side to it."
The fiesta attracts tens of thousands of young people, both Spanish and from abroad, often drinking throughout the nine-day festival, and then testing their courage by running alongside the massive bulls at 8am every day.
READ: