Shah Rukh has said that he is surprised at the adulation he receives from his millions of fans around the world. The 50-year-old actor is widely hailed as the world's biggest superstar, with 19 million followers on social media alone and a global fan base.
Speaking to IBTimes UK at the London press conference for his forthcoming film Fan, the actor said he is bewildered by the attention he receives. "I've always been a little surprised that people like me so much," he explained. "So many people come outside my house and I meet people around the world. Mothers like me like their own child. Girls and boys think of me with a lot of emotion. I find that ... not strange ... I just wonder — how do they like me so much? I'm just an actor."
Khan, who is synonymous with his romantic screen incarnations such as Raj in Dilwale Dulhania LeJayenge, added that, for his most ardent fans, the line between reality and fiction may have become blurred during his 25-year journey in film. In a candid admission, he confessed that he sometimes fears he may not live up to public expectations.
"A lot of what you see of me apart from at a press conference or in an interview is mainly an image I have created. I get really scared that people might be disappointed when they meet me in real life. 'Oh he's so boring'. I do remember a lot of times — I get that especially from the Punjabi ladies — 'He's skinny. He looks small. He looks really big in his films.' I always have this thought 'Would they like me if they got to know me personally?' I think I'm not as interesting as some of my film roles where people might have liked me."
In Fan Khan plays a double role, portraying both superstar Aryan Khanna and his obsessive fan Gaurav. The action thriller, directed by award-winning filmmaker, Maneesh Sharma, explores the darker side of celebrity obsession, however Khan insists he has never had any such dangerous encounters with a fan himself.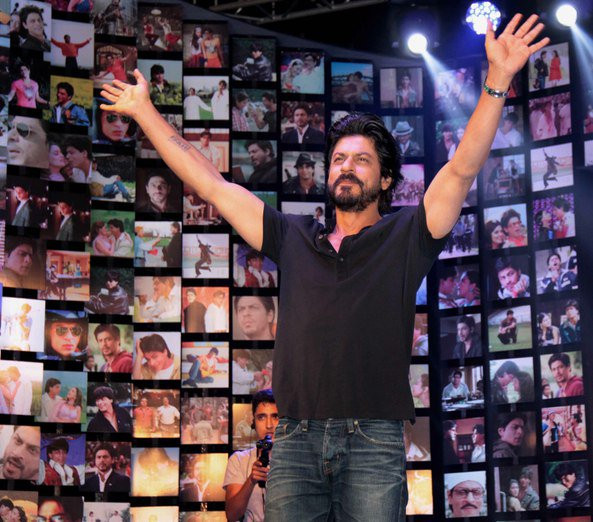 "I've met these young ladies here from Germany and parts of Europe who hang out wherever I am. They are beautiful. But no. Nobody really obsessive. I have mainly female fans. No one really aggressive but physically some ladies are strong and they try to hold you. I've had a fan that's taken off his clothes and jumped in my pool. He didn't want to see me or bother me in anyway. He just wanted to bathe in my pool."
In a series of videos capturing the real-life fan stories, the actors most devoted followers are seen turning their homes into shrines in his honour and attempting to emulate everything from Khan's appearance to aspects of his family life, with many even naming their children after the actor's children.
Khan recently admitted to IBTimes UK that he is a fan of the Duke and Duchess of Cambridge after dining with the royals during their tour of India. However he had a poignant message for his legions of fans who dedicate their lives to him. "You can love me as much as you want," he explained. "Perhaps take a few moments of your life to be inspired by me if you want. But don't hurt yourself. Don't change yourself. You could achieve a lot more in life being yourself than being a shadow of someone else. I'm not being patronising to people who like me, but just realise there is no one more important than yourself. Look after yourself before completely dedicating your life to someone else."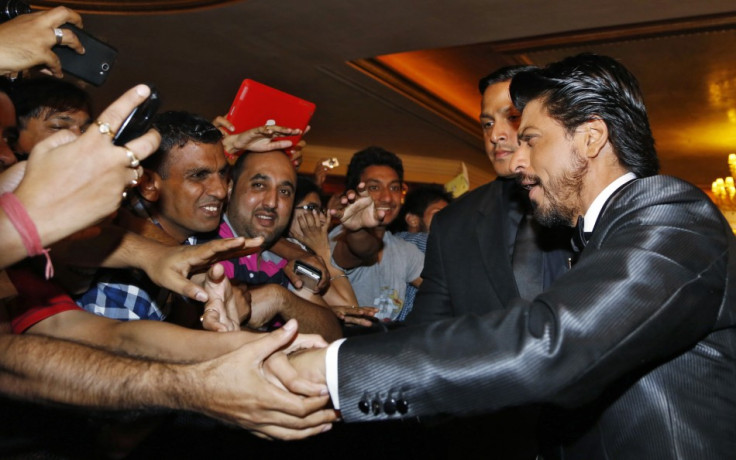 Khan is without question, one of India's most loved movie stars and the actor acknowledged that he owes his fans a debt of gratitude for their loyalty and their enduring love.
"Everything I do is done with a lot of humility. I cannot say it any other way," he said. "I need to be gracious. I need to be going out of my way to say thank you for liking me so much for things that maybe I'm not. I'm just really grateful ... to everyone who likes me."
Fan releases worldwide on 15 April 2016. Watch the trailer below: