Volkswagen investors rounded on the company's management over their handling of the diesel emissions scandal at the annual shareholder meeting on Wednesday (22 June). Chairman Hans Dieter Poetsch faced the brunt of criticism during the day-long meeting, with investors accusing him of withholding information on the scandal from them 'for weeks'.
Poetsch was VW's finance director when US officials filed charges against the company last September and was promoted to chairman weeks later.
"The election of Mr Poetsch not only goes against best corporate governance practice in Germany but gives rise to serious conflicts of interest. We are struggling to understand how Mr Poetsch will be able to discharge his duties as a member of the supervisory board," Hans-Christoph Hirt, co-head of the investment fund Hermes EOS, was quoted as saying by the Wall Street Journal.
However, three main shareholders of the German car-maker closed ranks around management and defeated two motions aimed at removing Poetsch as chair of the meeting. Investors also demanded a greater number of independent directors on the supervisory board to increase future transparency.
'Shambles'
The meeting in Hanover was the first time 3,000 VW shareholders came together since the emissions scandal broke in the US nine months ago. The German firm admitted last year that it had installed defeat devices to manipulate emissions in 11 million of its diesel vehicles sold globally.
It has set aside more than $18bn (£12bn; €16bn) to cover the costs of the scandal and posted its biggest ever annual loss in 2015. "We sincerely regret that the diesel issue is casting a shadow on this great company," Poetsch was quoted as saying at the meeting.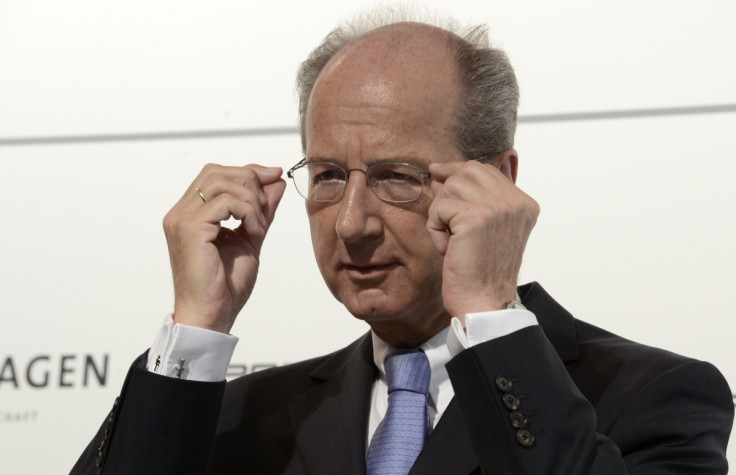 Chief executive Matthias Mueller also apologised to investors, saying: "On behalf of the Volkswagen Group and everyone who works here, I apologise to you shareholders for your trust in Volkswagen being betrayed. This misconduct goes against everything that Volkswagen stands for."
Meanwhile, German prosecutors are investigating former VW chief executive Martin Winterkorn and Herbert Diess, current chief of the passenger car brand, over allegations that they effectively engaged in market manipulation by not disclosing information on the scandal to shareholders in a timely manner.
"We are looking at a shambles," Ulrich Hocker of Germany's DSW association of private investors was quoted as saying. "The stock has plunged 50 percent, market share keeps shrinking and diesel engines – which long have been portrayed as the saviour – are just a big bluff."