Sharon reveals sex addict husband Ozzy Osbourne cheated on her with several women
Sharon and Ozzy got married on 4 July, 1982 and share three children: Aimee, Jack and Kelly.
Sharon Osbourne has opened up about her husband Ozzy's sex addiction. The Black Sabbath front man rocker's wife also said that her husband cheated on her with five women from five different countries.
"The s**t that's been going on with my husband recently, it's been going on for about five years but people are talking about it now. We've survived everything, drink, drugs and now it's women," the 63-year-old mother of three children told The Sunday Times magazine. (via The Mirror)
"Somehow drugs and drink is more acceptable I think. When it's somebody that has a sex addiction, it's embarrassing. He's come out and admitted it finally. It's very, very hard. It's been going on for at least six years."
Sharon also said the anti-depressants she was on for 20 years stopped working last year.
"I had a very bad time last year. I had a kind of breakdown. I couldn't speak, I'd get out of bed to go to the studio, come back and get into bed," she said.
The Sabbath Blood Sabbath hit-maker previously opened about his sex addiction, saying that his relationship with celeb hairstylist Michelle Pugh was not romantic at all.
"Over the last six years, I have been dealing with a sex addiction. I'm sorry if Ms Pugh took our sexual relationship out of context. I'd also like to apologise to the other women I have been having sexual relationships with," Ozzy said in a statement. (via The Telegraph)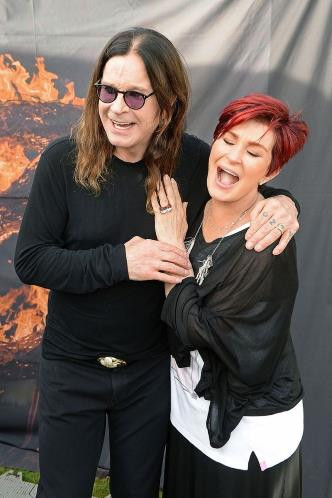 Ozzy & Sharon Osbourne got married on 4 July 1982 and have three children
Getty
"Out of bad comes good. Since the press exposed this, I have gone into intense therapy. I am mortified at what my behaviour has done to my family. I thank God that my incredible wife is at my side to support me," he added.
In March, The Talk host revealed she once caught Ozzy in bed with two of the nannies whom were hired to look after their children.
"We used to have four nannies, because I had three children. I would work five days a week, I would travel," Sharon said. "I'm telling you, they were the bane of my existence. They were all wanting to be celebrities. They were all wanting money... I caught two of them in bed with Ozzy! At the end of the day, I hired a manny called 'Big Dave.'" "Never trust a nanny!" she added.
Sharon and Ozzy got married on 4 July, 1982. The couple share three children: Aimee, Jack and Kelly.