Detectives investigating the escape of murderer Shaun Walmsley have offered £20,000 (€23,000, $24,700) of the convict's own money as a reward for information leading to his capture.
The money, on offer by Merseyside Police, was seized from Walmsley following his arrest and life sentence for the murder of Anthony Duffy.
The 38-year-old prisoner has been on the run since the afternoon of 21 February, when he escaped from the custody of three prison guards following a medical appointment at Aintree University Hospital in Liverpool.
As the prison officers and Walmsley were getting into a minicab outside the hospital, two other men – believed to be armed with a gun and knife – threatened the prison officers and demanded they release him, before escaping in a gold-coloured Volvo.
Detective Superintendent Natalie Perischine, of Merseyside Police, said: "Walmsley and those that released him had put in a considerable amount of planning to execute his escape and it is only right that we use Walmsley's own money to encourage people to tell us where he is."
Walmsley had been serving a life sentence with a minimum of 30 years at HMP Liverpool for the 2014 murder of Duffy, who was repeatedly stabbed in a street near Aintree racecourse.
The investigation into his escape has expanded to involve officers from the National Crime Agency (NCA), police forces in Europe and law enforcement agencies further afield.
Ten days ago detectives released an image from the hospital's CCTV showing how Walmsley's appearance had changed considerably since the original mugshot released to the media when he was sentenced to life in 2015.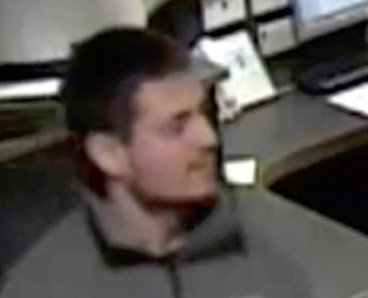 The image shows that Walmsley's face is more gaunt in appearance, having lost a considerable amount of weight.
Det Supt Perischine said: "I would like to reiterate that Shaun Walmsley, and the two others involved in the incident, are dangerous individuals and we will be relentless in our pursuit of them.
"We are determined to find Walmsley and put him back behind bars. And we are also committed to finding the offenders who helped him escape, or anyone who may be harbouring him, so that we can put them before the courts."
Walmsley is described as white, 6ft tall and of slim build with dark brown hair and blue eyes. He was last seen wearing dark bottoms and a dark jacket.
The first man, who was believed to be armed with a gun, is described as having his face covered and was wearing white shoes, grey tracksuit bottoms with a stripe down each side, a grey hoody and a dark coat.
The second man, who was believed to be armed with a knife, is described as having his face covered and he was wearing a green coat, dark Nike trainers and grey tracksuit bottoms.
Detectives are advising the public not to approach Walmsley if they see him, as he could be in the company of the others who helped him escape and they are believed to be armed. Walmsley himself is also described as dangerous.
As part of the ongoing bid to trace Walmsley, CCTV of the escape will feature in a BBC Crimewatch episode on Monday night (20 March).
Four men who were arrested in connection with Walmsley's escape were released pending further enquiries on 4 March.
---
Officers would ask anyone who has seen Walmsley, knows where he is, or anyone who saw the suspect's car in the area, to contact the police on 999, or Crimestoppers, anonymously, on 0800 555 111.