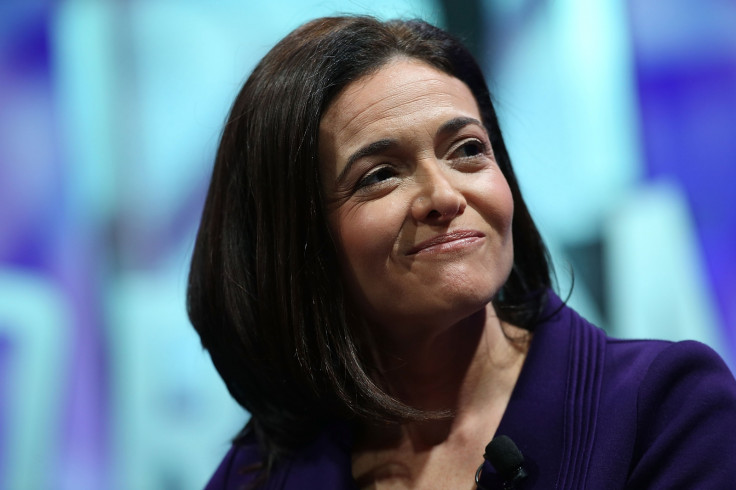 Facebook chief operating officer Sheryl Sandberg is transferring more than $100m (£79m) worth of stock into a charitable fund for philanthropic donations. According to a Securities and Exchange Commission filing disclosed on Wednesday (30 November), the executive transferred 880,000 of her Class A shares in the social media company to her donor advised Sheryl Sandberg & Dave Goldberg Family Fund on 21 November.
A person familiar with Sandberg's plans told the New York Times that the money will go towards organisations that deal with women's empowerment issues, including LeanIn.org, a non-profit organisation that she founded based on her best-selling book, Lean In: Women, Work and the Will to Lead.
Sandberg's donations will also benefit OptionB.org, a new grief and loss support initiative that she plans to launch next spring together with her next book, Option B, that deals with building resilience in the face of loss and hardship.
Recode reports that part of the proceeds will also go to non-profits that tackle hunger such as the Second Harvest Food Bank and grief and crisis support group Kara.
On Tuesday, popularly known in the US as "Giving Tuesday" which falls right after Black Friday and Cyber Monday, Sandberg wrote in a post that Facebook is partnering with the Bill & Melinda Gates Foundation to match up to $1m in donations by fundraising campaigns on the platform, with up to $1,000 per fundraiser. She also said she is supporting organisations that tackle hunger including Feeding America, her local food bank Second Harvest Food Bank, where she volunteers with her children, and the California Association of Food Banks.
"This is a cause close to my heart," Sandberg wrote. "On #GivingTuesday I hope you will join me in supporting hunger relief, a cause that touches every community. 42 million people in the US – including 13 million children – may face an empty plate this holiday season."
At the end of 2015, Sandberg donated $31m worth of Facebook stock to various charities. In May 2014, she and her late husband Dave Goldberg signed The Giving Pledge, a philanthropic effort started by Warren Buffet and Bill and Melinda Gates in 2010 that asks the world's wealthiest people to donate the majority of their wealth to charity during their lifetime.
In September, Facebook CEO Mark Zuckerberg and his wife Priscilla Chan vowed to invest at least $3bn in medical research over the next decade to try and cure, prevent or manage all diseases by the end of the century.
Following the birth of their daughter Maxima last year, Chan and Zuckerberg penned an open letter promising to put 99% of their Facebook shares, valued at $45bn at the time, into a new organisation called the Chan Zuckerberg Initiative to "advance human potential and promote equality".