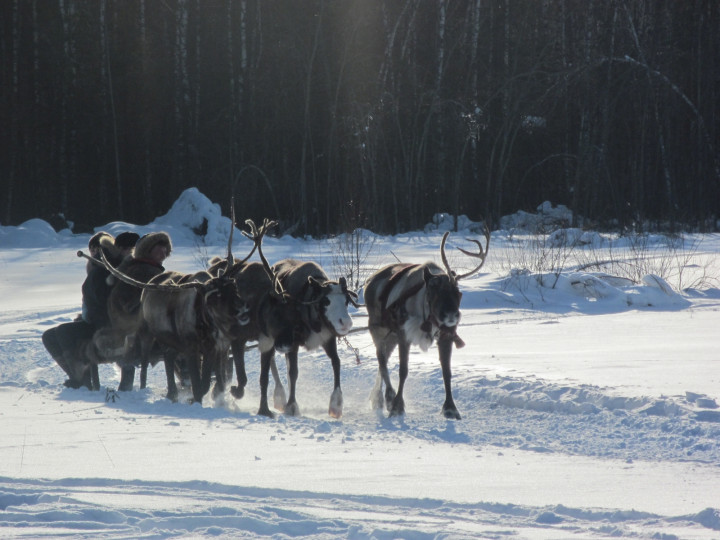 Authorities in Russia are launching a 'reindeer police force' to help officers track down criminals and stop petty crime in the harsh snowy tundra of Siberia in the Polar Circle.
Reindeer are uniquely equipped to help officers fight crime among Siberia's indigenous peoples, said Moscow's Izvestiya newspaper this week.
Police in the region, which regularly hits temperatures of -50°C, have complained in the past that their snowmobiles are unable to catch indigenous Siberian criminals, who expertly handle reindeer sleds.
A police official was quoted saying reindeer "tend not to break down or run out of gas in the middle of the tundra", The Moscow Times reported.
Of the 163 crimes registered in the Yamalsky municipality of western Siberia so far this year, 127 were reportedly committed by indigenous minority groups.
Local police say the figures are typical to the entire district, meaning the new reindeer police force could be a smart way to maintain social order in the harsh conditions of the tundra.
Drunken fights, robberies and acts of hooliganism dominated the list of crimes committed in Yamalsky in 2014. Alcoholism is a huge social problem in Siberia, which is believed to be a contributing factor in the high number of petty crimes.
Russian police have been asking for reindeer since 2012, but the creatures are set to be finally be employed in the region for crime-fighting purposes this winter.
Plans to also employ camels, outlined in the same report, remain tentative. Meanwhile, the Russian Defence Ministry is already using mules and donkeys, deploying 150 of them for use by Russia's mountain troops. The sturdy and sure-footed animals reportedly received rave reviews from the soldiers.