Days after saying that he would "eat Abu Sayyaf alive", the outspoken Philippines President Rodrigo Duterte has proposed to feed sea pirates to sharks.
During his recent visit to Jakarta, Duterte told Indonesian forces to chase pirates, even if they have to enter Philippine waters, and "blast them off".
The Philippines' leader met with Indonesian President Joko Widodo and they reportedly discussed the issue of sea piracy that is prevalent in the South China Sea.
Duterte expressed concerns about Indonesian coal shipments to Philippines being stolen by pirates and about the abductions by Abu Sayyaf – an Islamist extremist group based in the southwestern Phillippines islands.
While briefing the media about his discussions with Widodo on Friday (9 September), Duterte said that if Indonesian forces are chasing pirates they enter Philippine waters and "can go ahead and blast them off. That's my word actually with Widodo. I said, 'blow them up'."
He then immediately added, "But maybe if there are sharks around, then we can just feed them to the sharks," the Associated Press reported.
The former Davao city mayor, known for his bold comments and remarks and for encouraging vigilante killings of suspected drug dealers since taking office, returned to his country on Saturday, 10 September.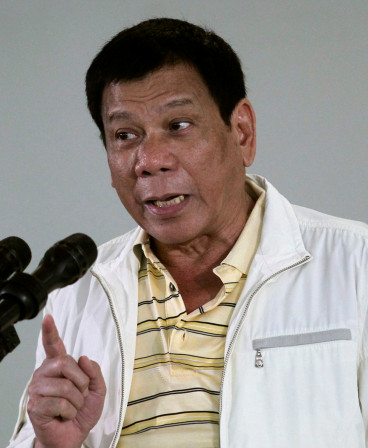 Addressing reporters following his week-long international trip to the Association of Southeast Asian Nations (ASEAN) summit in Laos and then to Indonesia, he urged the national media to criticise him for his wrongdoings.
In the light of the recent reporting on his swearing at US President Barack Obama and the aftermath, he said "…do not hesitate to attack me, criticise me if I do wrong in my job".
"It is your duty to your country. As I have my duty to the people to serve you," he was quoted by GMA News as saying, in response to a question if was angry with journalists for allegedly misinterpreting his comments on Obama.
He clarified that he has no grudges against the media.
"I am not at liberty to be angry at anybody. It is your sworn duty to ask questions," he reportedly told the reporters, noting that if a mistake is committed without any malice, he does not mind it.