Silicon Valley giants have sharply criticised President Donald Trump's executive order to temporarily block all refugees and deny entry to citizens of several predominantly Muslim countries. The CEOs of multiple tech companies including Google, Apple, Microsoft, Uber, Airbnb and Tesla Motors have condemned the president's policy saying it directly affects their own employees and could hurt their ability to competitively recruit talent.
"Apple would not exist without immigration, let along thrive and innovate the way we do," Apple CEO Tim Cook wrote in an email to employees, Business Insider reports. "I've heard from many of you who are deeply concerned about the executive order issued yesterday restricting immigration from seven Muslim-majority countries. I share your concerns. It is not a policy we support."
Steve Jobs, Apple's founder, was the biological son of a Syrian immigrant.
In a LinkedIn post, India-born Microsoft chief executive Satya Nadella wrote: "As an immigrant and as a CEO, I've both experienced and seen the positive impact that immigration has on our company, for the country, and for the world. We will continue to advocate on this important topic."
Google chief executive Sundar Pichai wrote in a memo to employees that the president's order affects at least 187 of the company's staff.
On Friday, Pichai ordered scores of Google employees travelling overseas to return to the US immediately due to the ban, which also affects foreign-born immigrants with legal permanent residence status in the US. The immigration restrictions also affect those who hold dual nationality.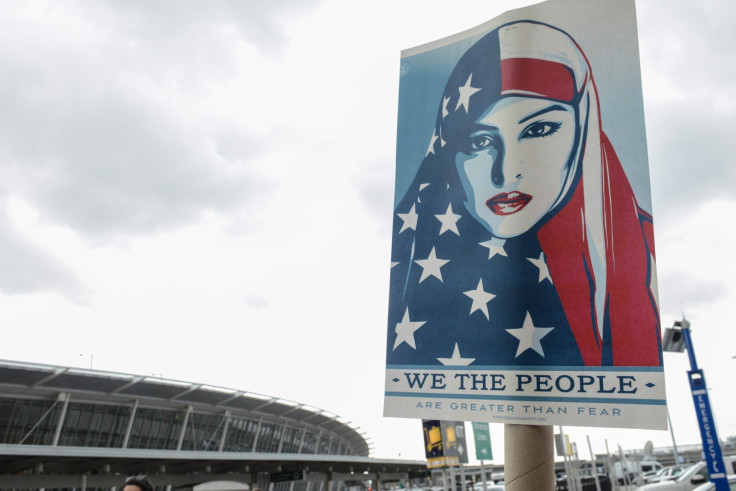 "It's painful to see the personal cost of this executive order on our colleagues," Pichai wrote. "We've always made our view on immigration issues known publicly and will continue to do so."
In a statement, the company said it was "concerned about the impact of this order and any proposals that could impose restrictions on Googlers and their families, or that create barriers to bringing great talent to the US."
Google co-founder and president of Alphabet Sergey Bin, whose family immigrated to the US from the Soviet Union when he was six years old, joined the protests against the immigration order and at San Francisco international airport as well.
On Saturday, Facebook CEO Mark Zuckerberg said he was also "concerned about the impact" of the move, adding that "we need to keep this country safe, but we should do that by focusing on people who actually pose a threat".
"Had we turned away refugees a few decades ago, Priscilla's family wouldn't be here today," he wrote, referring to his wife Dr Priscilla Chan whose parents were refugees from China and Vietnam.
Netflix CEO Reed Hastings said that the president's "actions are hurting Netflix employees around the world, and are so un-American it pains us all." He added that the move "will make America less safe (through hatred and loss of allies) rather than more safe".
"It is time to link arms together to protect American values of freedom and opportunity," Hastings wrote on Facebook.
In December, multiple high-profile Silicon Valley executives met the president at Trump Tower. Later that month, tech giants such as Apple, Facebook, Google, Uber and IBM as well as thousands of tech employees said they would not help Trump create a Muslim registry, if asked.
The Internet Association, a major trade group that represents major tech firms including Amazon, Netflix and Microsoft among others, warned that Trump's actions would have "troubling consequences" for Silicon Valley companies that rely on recruiting foreign workers from around the world.
"While this order impacts many companies outside of the tech industry, internet companies in particular thrive in the US because the best and the brightest are able to create innovative products and services right here in America," Internet Association president Michael Beckerman said in a statement.