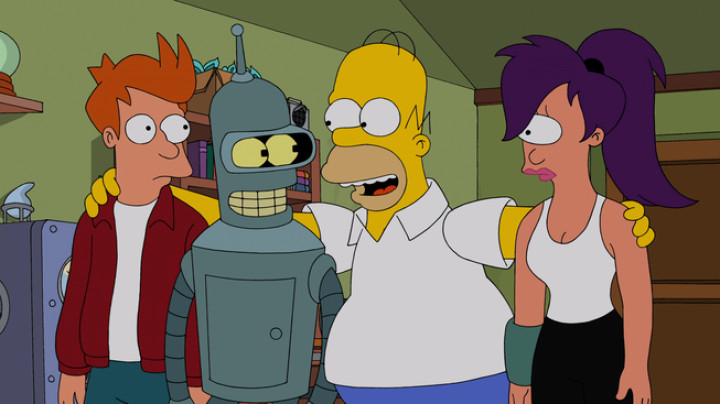 The much awaited Simpsons/Futurama crossover episode airs on Sunday, 9 November, at 8pm on Fox.
The Planet Express gang from Matt Groening's sci-fi animated show Futurama shows up in present Springfield from the 31st century to save the future.
The episode is titled Simpsorama, and the crossover will unwind a complex Terminator-esque story that involves "Bart blowing his nose on a sandwich that he places in a time capsule. When that mixes with Milhouse's rabbit's foot and some radioactive ooze, it creates a global catastrophe in the future, prompting Bender to travel back in time to kill Bart and prevent this mega-mess."
Click here to watch the episode online.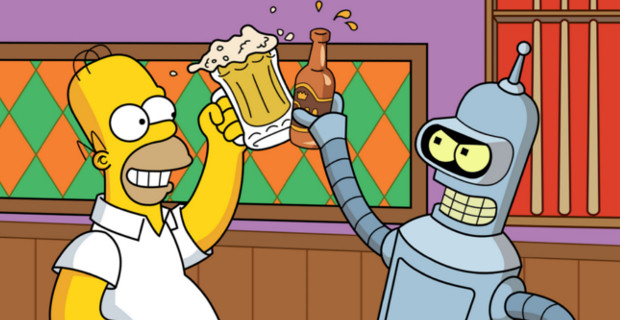 The tagline reads "a show out of ideas teaming up with a show out of episodes".
The Simpsons executive producer Al Jean has said that a crossover with Futurama will "please fans of both" shows.
Futurama aired its final episode in September in the US, and Jean insisted that the upcoming episode is not intended to undermine that show's ending.
"It was a really good ending and this doesn't purport to re-end it," Jean told Digital Spy.
"If you asked me, I'd say this crossover takes place three months before [the finale] occurred. I would never dream of trying to replace that ending."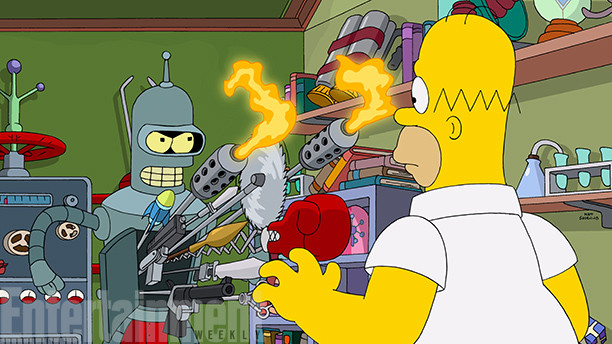 Jean admitted that he is "really excited" about the crossover.
"[We knew] Futurama was probably going off the air - though you never know, that show always comes back," he said.
"So we thought it'd be great to see those characters one more time and to have those voices come to our show."
The Family guy team from Quohog visited the Simpsons earlier this year, where Homer and Peter bonded when the Griffins family found themselves stranded in Springfield.
Watch all the promos here