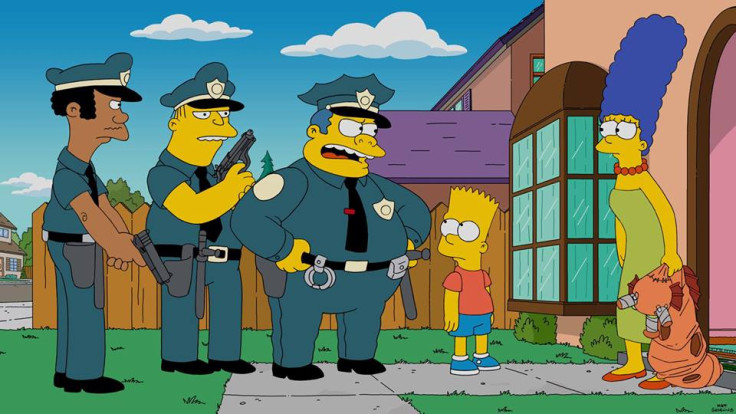 Fans have seen a lot happen in The Simpsons season 27. It was the first time that Homer spoke to viewers live, Bart was seen as a teenager and Lisa become a veterinarian, but nothing could prepare them for what is about to be shown in season finale.
Marge will go to prison and apparently would prefer to live in jail instead of returning to the Simpson household. Click here to watch the episode titled, Orange Is The New Yellow, online on Fox's official website, or click here to watch it live on Fox Now (only in US). The episode will air on 22 May at 8pm EST on Fox.
Warning: potential spoilers ahead
In the season finale, Homer will be seen struggling to handle Bart, Lisa and little Maggie. The official synopsis for the episode reads as follows:
In the latest promo, Marge is seen being taken away to prison and Homer yells one last question for his wife, "Just tell me where the soap for the dishwasher goes and how do it..."
Another promo shows that Marge is told to leave prison, but she does not seem ready to go home. Marge says, "I had 90 days." She asks the police guard that she was promised 90 days in prison. When the guard does not respond, she takes his gun and fires it.
Marge happily says, "Now you have to give me more time." Homer witnesses the incident panics and yells, "No you don't. I can't go to another school meeting. I can't. Everyone just asks about their own kid."
Executive producer Al Jean spoke to TVLine about the lead up to the season finale. He shared, "Marge lets Bart go to the park alone because he's too irritating, then she ends up getting arrested. I read a column by Mitch Albom, the writer of Tuesdays with Morrie, about a mother who was arrested for letting her son play in the park while she had to work. Albom was saying, 'When did it become illegal to let your kids play in the park when they're 10? When did kids have to be on a leash every minute?' So that's the basis of our story."
Despite the title of the finale, Orange Is the New Yellow, Jean insisted that the episode is not a parody of the Netflix comedy Orange Is The New Black. "It's more about dealing with that real issue. Nobody wants a child to be neglected, but I very much feel for a mom who has to work and can't afford a sitter," Jean added.