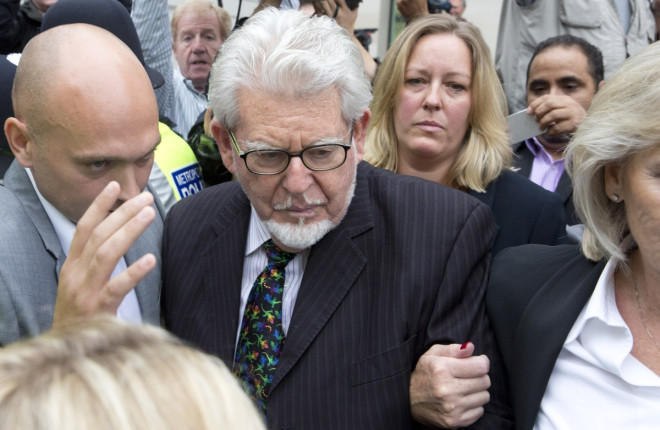 Rolf Harris had the jury at his sex abuse trial grinning as he gave them a recital of his song 'Jake the Peg.'
In unusual scenes at Southwark Crown Court, Harris also had to watch on as doodles he had made during proceedings were taken off him and sent for destruction by the court authorities.
Harris, 84, stood up and spoke in his own defence for the first time during his trial to deny the offences. He said he was naturally "a touchy-feely person" – but not in a sexual way.
He said the offences he is accused of committing never happened - even claiming he was in Canada when one incident allegedly took place.
The veteran Australian entertainer branded "ludicrous" a claim by a woman that he performed a sex act on her when she was underage.
But he admitted feeling "guilty" that he had an affair with her when she was an adult.
Harris told the jury the woman had come on to him during a stay at his house, when she revealed her legs to him in bed.
The wobble board maestro told the court: "It was a very flattering feeling for this young lady to be showing an interest in me.
"I can remember my heart was thumping away like mad. I didn't know what to do, I left the room."
Admitting he touched her leg, Harris said: "I find it very hard to discuss this. It's very embarrassing.
"It's just a married man, a much younger girl, I shouldn't have been doing it."
The next time she visited, he performed a sex act on her and told the jury it had left him with an "illicit and a guilty feeling."
He described taking in a cup of tea for her: "I think it was just an excuse, It stayed untouched on the bedside table. There were some whispered nothings between us, I think I kissed her and there was some foreplay."
Harris insisted that during their affair, the woman "seemed to be welcoming the whole business and enjoying it," but that it had "ended in a very acrimonious way".
Harris also claimed he was haunted years later by the woman, who reportedly threatened to tell the press about their affair unless he donated £25,000 to an animal sanctuary.
"It was like the sword of Damocles hanging over me," he said. "I kept waiting each weekend for a newspaper to destroy me."
He denies 12 indecent assaults between 1968 and 1986. The trial continues.