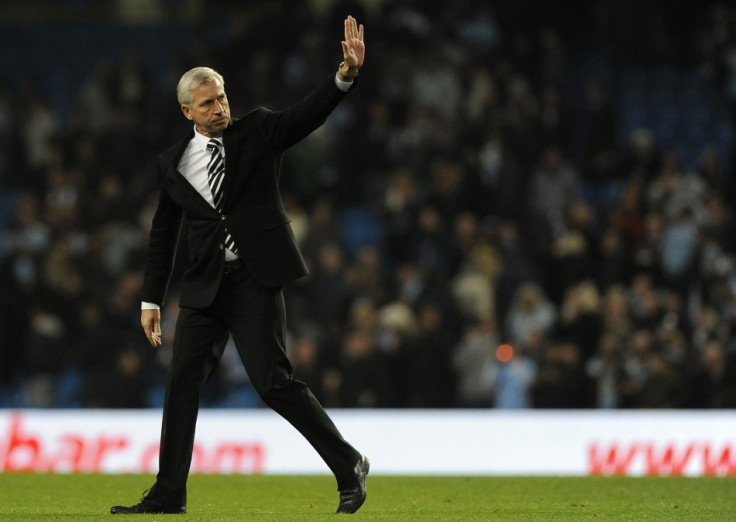 Manchester United manager Sir Alex Ferguson has lauded Newcastle United counterpart Alan Pardew ahead of this weekend's Premier League encounter at Old Trafford.
Despite his shock appointment in the aftermath of Chris Hughton's bizarre dismissal in December 2010, Pardew has engineered the Magpies' remarkable revival that has culminated in their surge up the table. They suffered their first league defeat of the campaign against Manchester City last weekend and currently find themselves in the heady heights of fourth place.
Ferguson believes Pardew has always displayed the necessary managerial credentials where ever he has been and intimates West Ham United and Southampton, two of the Newcastle United boss' previous employers, were wrong to dismiss him.
The Manchester United boss claims he has "always rated" Pardew's ability to surpass expectations, and lauded the 50-year-old for galvanising Newcastle United.
"I've always respected Alan Pardew, I've always rated him." The Manchester UInited manager told The Sun.
"I think he was unfairly treated at West Ham and at Southampton, it was ridiculous actually.
"He took West Ham to the FA Cup final and was one minute away from winning the Cup. He was so unlucky."
Manchester United host The Magpies on Saturday afternoon and Ferguson concedes it will be a challenge predominantly because of the job Pardew has executed in the north east.
"Alan's done a great job at Newcastle.
"He's galvanised them and got them fighting for each other.
"I watched their recent 2-2 draw at home to Tottenham and it was a great game, end to end, with both teams trying to win.
"There was a really good attitude among both sets of players. They were fighting for every ball.
"When you've got a Newcastle team doing that, with their great support behind them, you know you're going to get a difficult game."