The latest version of Skype for Windows (7.17.0.105), the update for which came out a few weeks ago, has been hit by a peculiar bug which causes one's messages to be listed at random, not chronologically, making conversations difficult. Microsoft has confirmed the bug through its Skype community and said it is working on a fix.
A user who brought up the bug in a post on the Skype Community on 28 December wrote: "When I get a message from someone or I reply to, no matter what, my messages are always above the messages of the person I'm talking to." Skype community manager Claudius Henrichs noted in his reply that some other users with the same version of the app had run into the same issue. He suggested uninstalling the application and downloading the previous version, 7.17.0.104, until the bug was fixed.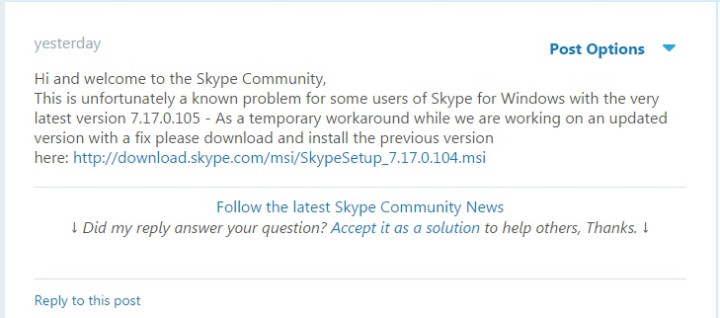 Microsoft generally releases updated versions of Skype for Windows once or twice a month and has faced similar issues with audio and video features including multiple devices continuing to ring after a call is answered. After users updated to Windows 10, the complaints about Skype escalated.
On 21 September, Skype was hit by a worldwide outage with users unable to log in. Those who could sign in reported all their contacts appeared offline but they were still able to send messages. The service was up the same day after a few hours.
In June, a bug in Skype had caused Windows, iOS and Android versions of the VoIP service to crash if sent the specific characters "http://:" through its messenger. The service would crash for both the person sending the message as well as the person receiving it.