Snapchat has already tackled wearables with its questionable Spectacles which, while of limited appeal, at least show that the plucky mobile start-up is not afraid of dipping its toe into new territory. Really though, the company will need to come up with something with far broader appeal if it truly wants to cash in on hardware.
Could a Snapchat smartphone be the answer? While it would only attract the most dedicated of Snapchat fans, it would at least be more practical than a set of specs with the sole purpose of capturing ten-second video clips. Snap Inc's recent IPO suggests that it is interested in developing its hardware arm, a theory backed up by a handful of recent hires at the firm as well as the fact that Snap now refers to itself as a camera company.
Social media marketing agency Mediakix has put its nose to the grindstone and imagined how a Snapchat phone might look and function. It envisions a device with custom software built around the Snapchat app, retaining the iconic swiping system that takes users to Snapchat notifications, Stories and a Discover screen that connects users to nearby Snapchatters. For additional flair, the home button is replaced by one shaped like the iconic Snapchat ghost.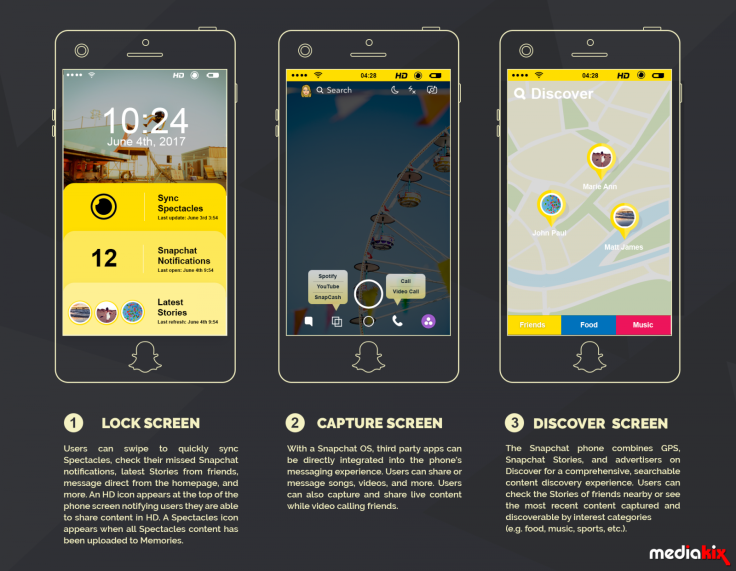 Mediakix imagines the Snapchat phone featuring a 360-degree camera that allows users to capture 360-degree video and upload it instantly to Snapchat. This builds on the technology of Spectacles, which supports videos with a 155-degree field of view.
When capturing video, Snapchatters can use the volume rocker to scroll through different filters or "Lenses" and apply them to their Snaps. A dedicated "One Touch Capture" hardware button on the side of the device allows users to instantly capture photos and videos even when the phone is locked.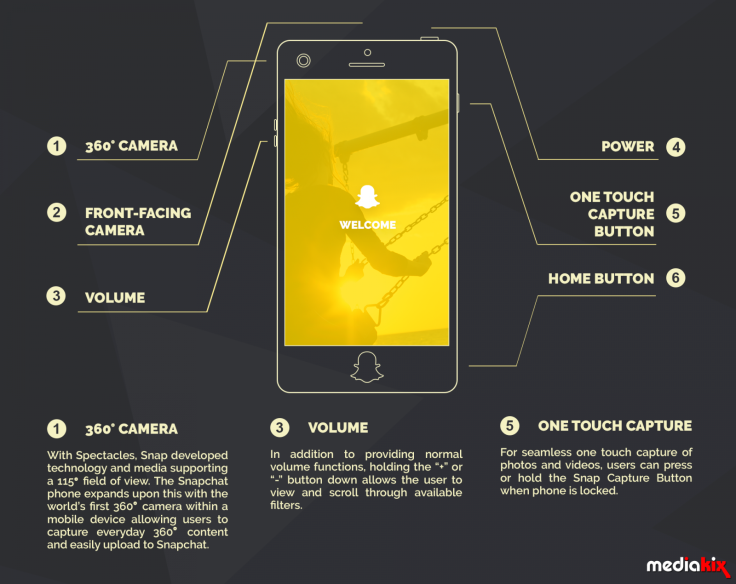 A Snapchat phone would be a big gamble for Snap, and one that has no guarantee of paying off. Some of you might remember the colossal failure that was the HTC First, which was the first (and ironically, last) phone to come pre-installed with the Facebook Home interface.
The software was an experiment by Facebook to see if it could dominate users' mobile experience by putting its platform at the heart of smartphones. The results were poor, and Facebook has since turned its focus to building more features into its Messenger app.
If Snap is planning a dedicated mobile device, no doubt it will use this as a reference point for avoiding similar pitfalls. At the same time, the fact that Snapchat has now become an influencer for Facebook and other social media elders suggests the $3bn start-up knows what it is doing.